Triangle Yoga Hang Tag Parking Permit
PRODUCT ID: t1314
Saving Design...
Please wait while we save your design. Do not close this window or navigate to a different page.
Triangle Yoga Hang Tag Parking Permit
This triangle shaped yoga parking permit hang tag has three color areas that can be customized to your match the color scheme of your studio. You can also personalize the text, fonts, and clipart. You can even upload your logo or image!
This design has room for your studio's branding, the timeframe the pass is valid for and the permit number. These high-quality parking permits hang from the rear view mirror for high visibility and are printed 20 mil polystyrene plastic that is flexible and durable, to make sure they last a long time.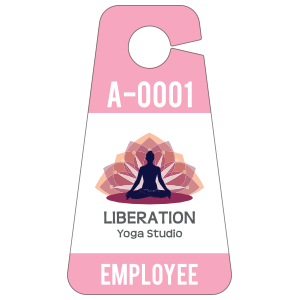 Types of Stickers
Unsure if you should order a Die Cut sticker, a Single-Color Cut-Out Sticker or a multi-Color Cut-Out Sticker? This short video will give you examples and a quick overview on the different sticker types.
View Video Library