Custom In Loving Memory with Any Clipart Sticker
PRODUCT ID: t469
Saving Design...
Please wait while we save your design. Do not close this window or navigate to a different page.
Instructional Videos
Learn how easy it is to design a custom sticker on Carstickers.com! With our online tool, you can upload images, personalize text, add clipart, and even generate a QR Code.
Learn 5 advanced features that will make it easier to design a custom sticker: Updating product details, Using custom text placeholders, Curved text arcs, Variable data, and Images as backgrounds.
Why Buy From Us
As the leading manufacturer of custom stickers, CarStickers offers a huge library of over 20,000 different designs. We help customers all throughout the United States and internationally to create unique sticker designs, each of which can be ordered as-is or customized with easy to use online tools. We offer over 40 different specialty material types, include free matte or gloss lamination on all orders, and provide superior customer service.
Custom In Loving Memory with Any Clipart Sticker
Losing a family member, friend or loved one is a tragic loss and can be difficult to move past. But you can keep them in your heart and thoughts with our custom "In Loving Memory" car decals and stickers. Using our website you can personalize this one-color transfer sticker by choosing an icon that represents your loved one. We have over 10,000 items to choose from in our clipart library.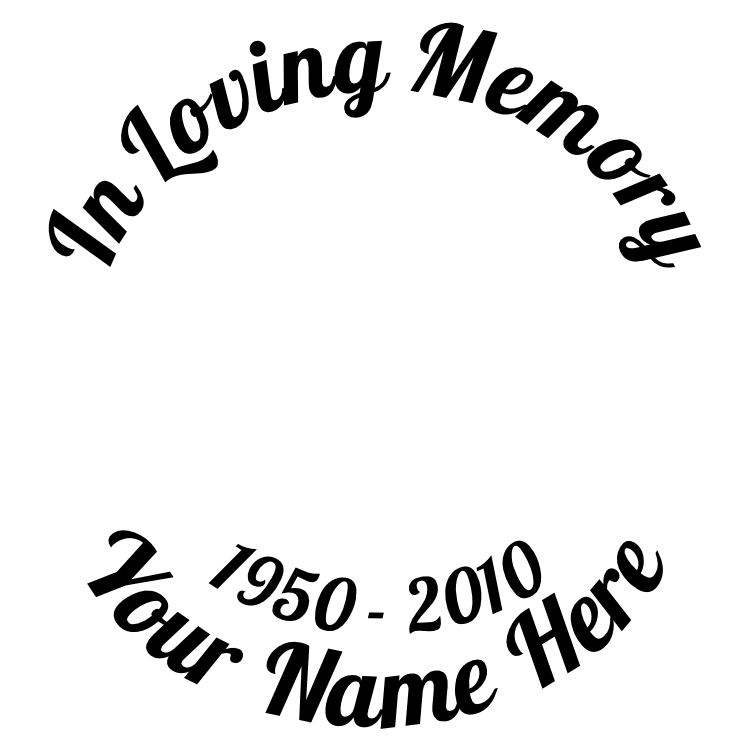 Our Customers Love Us!
Out of 90 Reviews for this Product
looks great on my truckthis made my mom crygreat job guys
it was perfect. we love it.
Looks great, decent price, arrived faster than expected.
Thank you this is awesome and looks great
This company does fantastic work! Very very satisfied with my sticker for my little brother. I have received a lot of compliments on it too!
I've order from here before and loved it, but unfortunately this time there was a misprint between the 3& the 5, and I emailed the company right away and still have not gotten a response.
Types of Stickers
Unsure if you should order a Die Cut sticker, a Single-Color Cut-Out Sticker or a multi-Color Cut-Out Sticker? This short video will give you examples and a quick overview on the different sticker types.
View Video Library