In Loving Memory Army Sticker
PRODUCT ID: t537
Saving Design...
Please wait while we save your design. Do not close this window or navigate to a different page.
Why Buy From Us
As the leading manufacturer of custom stickers, CarStickers offers a huge library of over 20,000 different designs. We help customers all throughout the United States and internationally to create unique sticker designs, each of which can be ordered as-is or customized with easy to use online tools. We offer over 40 different specialty material types, include free matte or gloss lamination on all orders, and provide superior customer service.
In Loving Memory Army Sticker
Make your car unique with our car paint safe single color In Loving Memory Army stickers. With over 40 weather resistant vinyl colors to choose from, you will have a hard time not finding a In Loving Memory Army Sticker that you will like. When you buy from CarStickers.com, you will always get a high quality In Loving Memory Army Sticker for your car that will last 1-5 years in both hot and cold climates.
Our Customers Love Us!
Out of 5 Reviews for this Product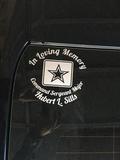 Feb. 27, 2017
Good quality vinyl and always get what I paid for. The nice thing is if you create a custom sticker with their editor they save it so you can re-order later. Nice feature when you get a new vehicle and you can order the same stickers you have
April 26, 2016
I love this sticker! It came out great, shipped fast and completes my new vehicle. When I wrecked my last car my tribute sticker got ruined and now having this new one makes us feel like our Scotty is riding with us again.
Oct. 10, 2015
I am very pleased with my custom order! I plan on purchasing more to give to other members of my family. Thank you so much!