In Loving Memory Fallen Soldier Cross Sticker
PRODUCT ID: t645
Saving Design...
Please wait while we save your design. Do not close this window or navigate to a different page.
Instructional Videos
Learn how easy it is to design a custom sticker on Carstickers.com! With our online tool, you can upload images, personalize text, add clipart, and even generate a QR Code.
Learn 5 advanced features that will make it easier to design a custom sticker: Updating product details, Using custom text placeholders, Curved text arcs, Variable data, and Images as backgrounds.
About The In Loving Memory Fallen Soldier Cross Sticker
Create a one color vinyl cut out In Loving Memory Fallen Soldier Cross Sticker for your car. Our In Loving Memory Fallen Soldier Cross stickers can be applied to any smooth surface including a car window or the paint of a car. The stickers are outdoor durable and can handle freezing cold temperatures as well as extreme heat. Our stickers are available in 40 + colors and can be customized with text if you choose. Order your sticker from Carstickers.com today.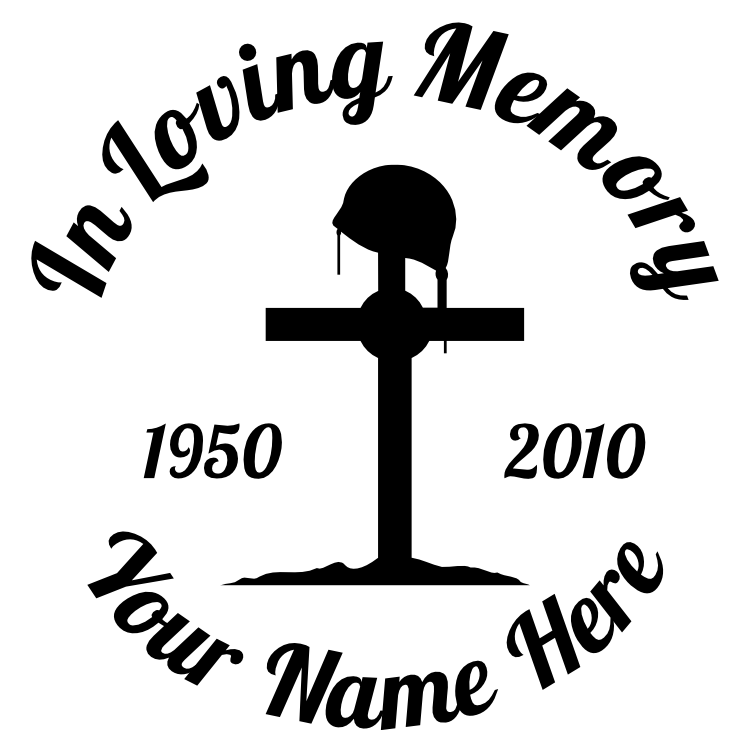 Our Customers Love Us!
Out of 5 Reviews for this Product
This is the second time I have purchased and installed this car sticker in memory of my boyfriend who died in Vietnam 50 years ago on April 5, 1970. The first one had to be replaced after my spare tire cover was replaced after a rear-end car accident. It was wonderful the Car Stickers remembered my earlier order so I was able to reorder the same design easily.
I love our car sticker! The websiteis easy to use and I got just what I wanted. They had a question on size and they called me. What great customer service!!! I highly recommend them.
I had been looking for the perfect memorial sticker for a while. I happened across carstickers.com and will now use them for all of my decal needs!! It was quick and easy to set up and shipped fairly quick!! The sticker looks amazing and my husband even ordered stickers! Can't wait to order again!
This was a memorial sticker for someone very special. I am so happy with the result. It looks great
I ordered memorial stickers in honor of a dear friend of mine and I was blow away by the quality. They were outstanding. The prices were very reasonable, the quality was great, and shipping was quick! Love it!
Types of Stickers
Unsure if you should order a Die Cut sticker, a Single-Color Cut-Out Sticker or a multi-Color Cut-Out Sticker? This short video will give you examples and a quick overview on the different sticker types.
View Video Library