In Loving Memory Rose Sticker
PRODUCT ID: t875
Saving Design...
Please wait while we save your design. Do not close this window or navigate to a different page.
Instructional Videos
Learn how easy it is to design a custom sticker on Carstickers.com! With our online tool, you can upload images, personalize text, add clipart, and even generate a QR Code.
Learn 5 advanced features that will make it easier to design a custom sticker: Updating product details, Using custom text placeholders, Curved text arcs, Variable data, and Images as backgrounds.
About The In Loving Memory Rose Sticker
Create a one color vinyl cut out In Loving Memory Rose Sticker for your car. Our In Loving Memory Rose stickers can be applied to any smooth surface including a car window or the paint of a car. The stickers are outdoor durable and can handle freezing cold temperatures as well as extreme heat. Our stickers are available in 40 + colors and can be customized with text if you choose. Order your sticker from Carstickers.com today.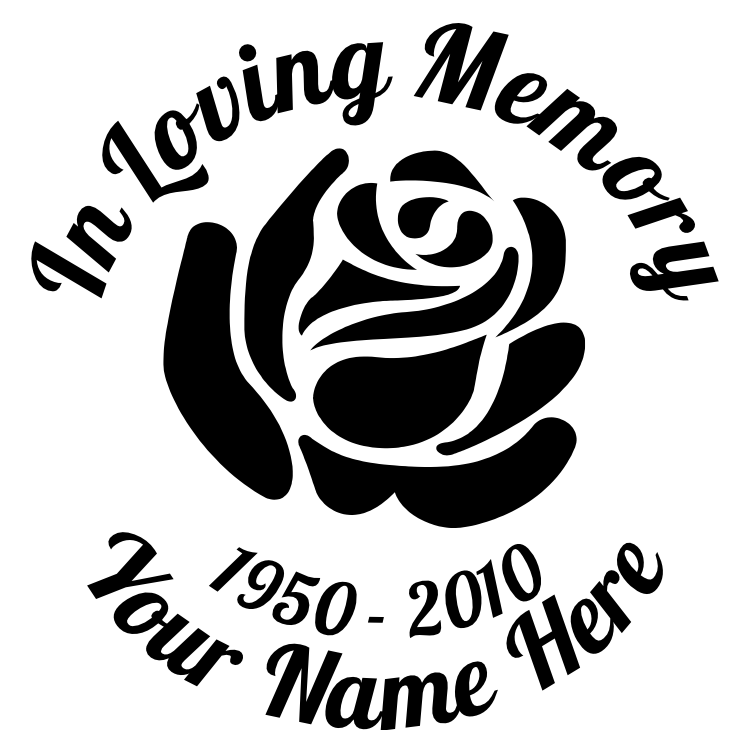 Our Customers Love Us!
Out of 8 Reviews for this Product
Used for a buddy's helmet that I repainted.
Very good quality exactly what I wanted very easy to put o car window
I had ordered a sticker from another company, it took forever to get it and when it did arrive, the dates were wrong. I was hesitant to try again but, I ordered and was more than pleased with the service and the sticker.
My wife passed away on Aug. 29, 2015 just three weeks past her 60th birthday, and three months short of our 40th wedding anniversary. I wanted to do something to always remember her, not that I would ever forget, but something so everyone could see that this great lady is missed every day. When I found carstickers.com, I noticed their In Loving Memories stickers came in various colors. Her favorite color was purple, so that was the one I picked. It is now displayed proudly on my truck. Thank you for a wonderful job.
I bought this sticker for my dad and similar ones for my brother and I. We all love the stickers and the ability to customize them for our family. After seeing my stickers my boyfriend went on to order his own for his grandparents. I'll definitely be ordering from this site again for any of my sticker needs!
Types of Stickers
Unsure if you should order a Die Cut sticker, a Single-Color Cut-Out Sticker or a multi-Color Cut-Out Sticker? This short video will give you examples and a quick overview on the different sticker types.
View Video Library