* Products in preview may not be actual size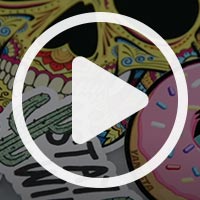 Product ID: 5676
Our California CA State Flag stickers are printed on 5-year, 6 mils thick vinyl that has an advanced air-release system that is ideal for car application.
Lasts up to 5 Years
Weatherproof
Free Lamination
About The California Ca State Flag Sticker
Our long-lasting printed stickers are easy to apply and made from thick, high quality vinyl intended for outdoor use. The California Ca State Flag Sticker can be adjusted for desired features and colors and can adhere to glass, plaster, wood, tile, plastics, metal and any other non-greasy, smooth surface. Personalize the California Ca State Flag Sticker and order yours online today!
Printed Stickers
Print your logo or design on your choice of material! Order custom printed stickers at carstickers.com!
View Video Library
Our Customers Love Us!
Out of 2 Reviews for this Product
I was looking for a California flag sticker to go with a USA flag sticker, which I'd bought at an auto-parts store. Finally I thought to look online and found this one, which fits perfectly and has the same vertical dimension as the other. It arrived quickly and appears to be of good, long-lasting quality.
This is the first sticker I purchased from this website and I am very satisfied with the quality and price. Not only are their stickers good for auto mobiles but also good for any other items you may have such as mine!