Types of Stickers
Unsure if you should order a Die Cut sticker, a Single-Color Cut-Out Sticker or a multi-Color Cut-Out Sticker? This short video will give you examples and a quick overview on the different sticker types.
View Video Library
Our Customers Love Us!
Out of 2 Reviews for this Category
Amazing product, vibrant colors and great easy application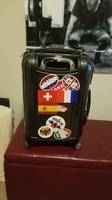 Been travelling quite a bit in the last year. I am a fan of old movies and love seeing the steamer trunks with all the destinations on them. I use Carsticker for the stickers I could not find in the countries visited.