* Products in preview may not be actual size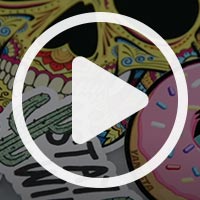 Watercolor Yellow Pink Isolated Spiral Seashell Sticker
Our long-lasting printed stickers are easy to apply and made from thick, high-quality vinyl intended for outdoor use. Watercolor Yellow Pink Isolated Spiral Seashell Stickers are weatherproof and can adhere to glass, plaster, wood, tile, plastics, metal and any other non-greasy, smooth surface. Order your Watercolor Yellow Pink Isolated Spiral Seashell Sticker online today!
About The Watercolor Yellow Pink Isolated Spiral Seashell Sticker
Perfect for any car or window, our Watercolor Yellow Pink Isolated Spiral Seashell Sticker is printed on high-quality, weatherproof vinyl with vibrant colors that last up to 5 years. The Watercolor Yellow Pink Isolated Spiral Seashell Sticker comes in multiple sizes, perfect for your phone, laptop, or car window! These stickers will adhere to any smooth surface and won't leave residue behind when removed. Order your Watercolor Yellow Pink Isolated Spiral Seashell Sticker today!
Printed Stickers
Print your logo or design on your choice of material! Order custom printed stickers at carstickers.com!
View Video Library
Our Customers Love Us!
Out of 14,107 Reviews
These magnets are SUPER high quality and work great on cars, fridges, etc. Love this company and will continue to order from them for all of my magnets + stickers!
Everyone is so impressed with the quality of these stickers ! Perfectly die cut with my sharp or jagged edges on this funky shaped design. Couldn't be happier
If you've got an ego as large as mine, and you want the kind of eye-catching vehicle that brings constant comments, then CarStickers.com can give you that. From fast food drive-thrus to shopping parking lots, and nearly every place I go, these cosmetic additions pop and draw compliments. The quality of materials is unsurpassed. The precise cutting gives exactly what the site claims. CarStickers.com not only provides a superior product, but their fast delivery and customer satisfaction is matched only by their after sales communications. This is way business should be done. Thanks, Carstickers.
I've been doing business with Carstickers.com for years. I find them extremely professional. Their work ethic and quality is beyond reproach, if you are in the market for high quality vinyl stickers this is your one stop shop. Fast, dependable, professional that's what you'll find at Carstickers.comPowe Taylor
100% what I wanted! Tried 3 other sticker companies with terrible results. Since receiving this order I have ordered again, this time a very tricky reproduction sticker. Again 100% impressed! You won't be dissatisfied, great products and people.
Great sticker quality. I was afraid since i basically found them on google and had not talked to anyone. just uploaded my picture and placed the order. I am glad i did. it turned out to be exactly what i wanted.