* Products in preview may not be actual size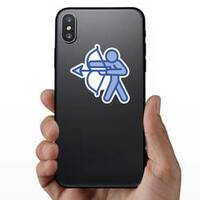 Archery Man Icon Outline Sticker
Perfect for any car or window, our Archery Man Icon Outline Sticker is printed on high-quality, weatherproof vinyl with vibrant colors that last up to 5 years. The Archery Man Icon Outline Sticker comes in multiple sizes, perfect for your phone, laptop, or car window! These stickers will adhere to any smooth surface and won't leave residue behind when removed. Order your Archery Man Icon Outline Sticker today!
Powered by Shutterstock Artist: Nsit
Why Buy From Us
As the leading manufacturer of custom stickers, CarStickers offers a huge library of over 20,000 different designs. We help customers all throughout the United States and internationally to create unique sticker designs, each of which can be ordered as-is or customized with easy to use online tools. We offer over 40 different specialty material types, include free matte or gloss lamination on all orders, and provide superior customer service.
About The Archery Man Icon Outline Sticker
Our long-lasting printed stickers are easy to apply and made from thick, high-quality vinyl intended for outdoor use. Archery Man Icon Outline Stickers are weatherproof and can adhere to glass, plaster, wood, tile, plastics, metal and any other non-greasy, smooth surface. Order your Archery Man Icon Outline Sticker online today!
Types of Stickers
Unsure if you should order a Die Cut sticker, a Single-Color Cut-Out Sticker or a multi-Color Cut-Out Sticker? This short video will give you examples and a quick overview on the different sticker types.
View Video Library
Our Customers Love Us!
Out of 12,891 Reviews
THESE GUYS R AWESOME💯💯👍👍👍 GREAT WORK, ORDERS DONE QUICKLY, AND SHIPPED IN A GOOD TIMELY MANNER. WOULD RECOMMEND TO ANYBODY FOR A STICKER NEED🙏🙏🙏💯💯💯💯💯 ANOTHER GREAT JOB👍👍
Great quality decals…fast shipping…will definitely order again
Came out better than expected!
Recreated and replaced the existing sticker on this restoration. Came out perfect.
Great sticker that has lasted for 5yrs! It's starting to come apart a little but that just means it's time for some new ones.
I love how the sticker I designed turned out. Exactly like I wanted. Great pricing, fast turnaround. Now I have other family members wanting the same sticker. I'll be ordering more and maybe design some others now that I found a great company to get them from.