* Products in preview may not be actual size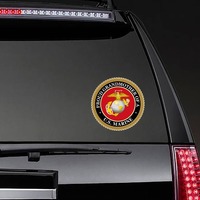 Product ID: 16999
Our long-lasting printed stickers are easy to apply and made from thick, high-quality vinyl intended for outdoor use. Proud US Marine Grandmother Stickers are weatherproof and can adhere to glass, plaster, wood, tile, plastics, metal and any other non-greasy, smooth surface. Order your Proud US Marine Grandmother Sticker online today!
Buy 4 of these stickers and save 25%! Buy 10 of these stickers and save 50%!
Lasts up to 5 Years
Weatherproof
Free Lamination
Why Buy From Us
As the leading manufacturer of custom stickers, CarStickers offers a huge library of over 20,000 different designs. We help customers all throughout the United States and internationally to create unique sticker designs, each of which can be ordered as-is or customized with easy to use online tools. We offer over 40 different specialty material types, include free matte or gloss lamination on all orders, and provide superior customer service.
About The Proud US Marine Grandmother Sticker
Perfect for any car or window, our Proud US Marine Grandmother Sticker is printed on high-quality, weatherproof vinyl with vibrant colors that last up to 5 years. The Proud US Marine Grandmother Sticker comes in multiple sizes, perfect for your phone, laptop, or car window! These stickers will adhere to any smooth surface and won't leave residue behind when removed. Order your Proud US Marine Grandmother Sticker today!
Printed Stickers
Print your logo or design on your choice of material! Order custom printed stickers at carstickers.com!
View Video Library
Our Customers Love Us!
Out of 13,211 Reviews
Great product. Arrived very fast and in perfect condition. Highly recommend.
I have spent the last eight months rebuilding my attached 30' by 50' machine shop garage along all he contents that were destroyed by fire. So much of the machines and tooling I had to replace. If it was time effective I rebuilt it. Such as my Mohawk Two Post Car Lift. After cleaning up the soot and replacing the seals and some electrical components. I stripped the drab factory red paint and painted it blue. Matching the theme color of my retirement shop.. I added the white vinyl lettering, Mohawk decal, along with the CarSticker's Proudly Made in the USA decals. Mohawk been manufacturing lifts in Amsterdam New York since the early 80's. I also placed them on two 5,000 pound machines that I rebuilt. One was once on a WW2 battleship the other was made in the 1950's, Both made in the USA. I added them to a newly purchased bandsaw that's made in Cleveland Ohio. Plus a new Dake hydraulic press made in Michigan. Thanks CarSticker for making a great product..
great quality and received it quickly. I'm a repeat customer. very satisfied
Awesome stickers for hard hats, durable and don't fade easily