* Products in preview may not be actual size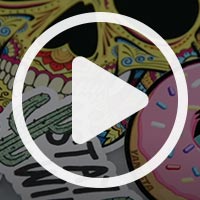 Perfect for any car or window, our Kansas Banner Sticker is printed on high-quality, weatherproof vinyl with vibrant colors that last up to 5 years. The Kansas Banner Sticker comes in multiple sizes, perfect for your phone, laptop, or car window! These stickers will adhere to any smooth surface and won't leave residue behind when removed. Order your Kansas Banner Sticker today!
About The Kansas Banner Sticker
Our long-lasting printed stickers are easy to apply and made from thick, high-quality vinyl intended for outdoor use. Kansas Banner Stickers are weatherproof and can adhere to glass, plaster, wood, tile, plastics, metal and any other non-greasy, smooth surface. Order your Kansas Banner Sticker online today!
Printed Stickers
Print your logo or design on your choice of material! Order custom printed stickers at carstickers.com!
View Video Library
Our Customers Love Us!
Out of 1 Reviews for this Product
First off, your stickers always go on just fine, look good and your delivery is timely. So why do I buy your stickers? Well, you have a large supply and I'm able to find the sticker design I like...….most of the time.For the past two plus years I have been pulling my RV to various parts of the US and Canada. I decided I would slap a sticker on the side of the RV for each state where I spent at least one night, overnight. My picture attached shows where I've been. I like that one state sticker design but, as you can see, it was not always available, like for the state on New Jersey. So I had to choose something else. If what I like becomes available, for New Jersey and the other states where I had to choose an alternative, I'll probably replace the current ones,Anyway, you sell a good product and I have no complaints.