Lauren's review of Turquoise Band Aid Bandage Sticker
Backed into a trailer hitch. This sticker did a great job of covering up my booboo.
Our Customers Love Us!
Out of 46 Reviews for this Category
Well, if you ever need a bandaid for your car when you somehow manage to make a hole into it as you backed up into another car on your drive way, then this is the perfect solution.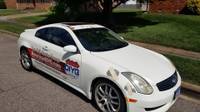 Love it! They get looks and laughs and thumbs up all the time! On top of that? Way cheaper than a paint job! LOL :-D
Hello, it worked perfect for what I wanted to do. I need another one to complete the work, thank you very much.