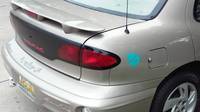 kelly's review of Realistic Ladybug Sticker
Our Customers Love Us!
Out of 9 Reviews for this Category
March 8, 2018
These vinyl decals have a vibrant color and great detail. They are a great addition to my "ladybug" Jeep! They have a lot to choose from , many colors and size options too! They were delivered promptly.
Nov. 9, 2017
I had been searching for a way to get my boat's name on the boat without hiring an expensive graphic artist. Finding Carstickers worked perfectly as you can see. It was relatively easy to affix and I already had the #2. If you can't figure out the boat's name, too bad. I'm not telling.