Wine Gift Box Set
Product ID: t7731
This personalized wine gift box set is the perfect gift for birthdays, holidays, or the wedding party! Use our online tool to create a custom design with photos and text to personalize the top of the gift box.
* Products in preview may not be actual size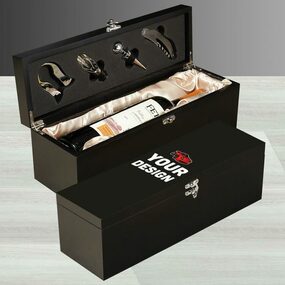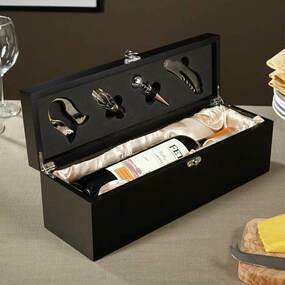 The Difference Between Printed and Transfer Stickers
Unsure if you should order a Die Cut sticker, a Single-Color Cut-Out Sticker or a multi-Color Cut-Out Sticker? This short video will give you examples and a quick overview on the different sticker types.
View Video Library
About The Wine Gift Box Set
This high-class gift set is perfect for any wine lover. Matte black finish presentation box holds 1 wine bottle and included is a piece to separate tools from the bottle. White on one side and cream satin lined on the other side. Tools fit snugly into charcoal colored foam and includes a corkscrew, stopper, decanting pourer, and a plastic foil cutter. The box has silver hardware and a clasp to hold the lid tightly closed.
Leatherette offers the look and feel of genuine leather at a fraction of the price. This richly textured, synthetic material is spot resistant, easy to clean, and durable enough for the rigors of daily use. The high-quality workmanship of each leatherette piece is sure to impress every recipient with its elegant individuality. Create a keepsake that will have an impact for years to come!
The box has a silver clasp that holds the lid down.
The tools fit snugly into charcoal colored foam in the lid of the box:
Includes: foil cutter, decanting pourer, stopper and corkscrew. The corkscrew has a fold out knife, bottle opener and boot lever.
The foil cutter is made from silver plastic. All other tools are stainless steel.
Includes piece to separate tools from the wine bottle. White on one side, cream satin lined on the side.
Will hold 1 bottle. Not all wine bottles will fit. Irregularly shaped or oversized bottles will not fit.
Frequently Asked Questions
Question:
Best Practices For Uploading A Graphic
Answer:
Uploading an existing image or design to create a custom sticker is easy! However, there are some common issues with uploaded files that can hold up the production process. Below are a list of best practices for uploaded files that can help you avoid delays in receiving your order.
Embed Images/Files
When you place an image or file into your illustrator document, make sure the file is embedded. With the placed file selected, you can see whether the image is Linked or Embedded in the top left corner of the document.
Outline Fonts
After you've designed your sticker in Illustrator or other design software, make sure that your fonts are outlined. When artwork is submitted without outlined text, we may not have the fonts needed to print your design as you created it.
White Stickers
If you are ordering a sticker where the only color in the design is white, you can choose from a white transfer sticker or a clear vinyl sticker with the design printed in white. Transfer stickers have the design cut out of a piece of white vinyl and then have the background elements removed. Clear vinyl stickers have the design printed in an opaque, white ink and can either be die cut around the shape of your design or cut to a standard shape, such as a circle, square, or oval.
**In some cases, where a transfer sticker is too small to cut, we may recommend changing to a sticker printed on clear vinyl.
Cut Paths On Sticker Sheets
While ordering a sticker sheet, cut paths are signified by a 1 pt. stroke around your artwork. The stroke must be a spot color with the name "CutContour." For detailed instructions on how to add cut paths to your artwork in Adobe Illustrator, please view this short tutorial video.
If you would like a sticker sheet, but don't want to worry about setting up your own cut paths, simply select the "I need cut paths" option.
Submitting Transfer Sticker Artwork As A Black Image
We often receive white artwork on a black background from customers who want to purchase a white transfer sticker. Please submit your artwork as a black image on a white background. Once you upload your file you will be able to select the color of your sticker.
Transfer Sticker File Types
| Preferred Files | Not Preferred Files | Do Not Submit |
| --- | --- | --- |
| .EPS | .JPG | MS Office Files |
| .AI | .JPEG | |
| .PDF | .PSD | |
| .TIF | .PNG | |
| .CDR | | |
You can check your file type by looking at the extension at the end of your file name. Example: transfer_sticker_file.eps
Printed Sticker File Types
| Preferred Files | Not Preferred Files | Do Not Submit |
| --- | --- | --- |
| .EPS | .TIF | MS Office Files |
| .AI | .CDR | |
| .PDF | .JPG | |
| | .JPEG | |
| | .PNG | |
| | .PSD | |
Question:
Raster art vs. Vector art
Answer:
One way designers get around being stuck with one size is to design in vector art programs (typically Adobe Illustrator and Corel Draw). Vector art programs use paths and shapes instead of pixels (Raster images) to determine shape and color. These shapes and paths can be enlarged and are not dependent to a pixel size, so their quality remains intact when sized. Typically people use vector programs to create logos and text, but are popular amongst designers because of their friendliness towards scalability. Click Here to find out about getting YOUR artwork vectorized.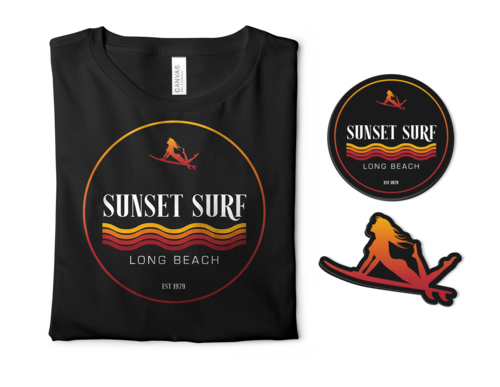 One Design, Multiple Products
Now it's even easier to give your message maximum exposure! Print your business logo on stickers, magnets, and matching tees! If you have a fundraiser or event coming up and you want to offer some giveaways, why not print some custom drink koozies to match your stickers? And if you want to make your workplace look more professional, why not get a mouse pad with your business logo printed on it? With the ability to use the same design across multiple product lines, you can order a complete branding package!
View Products
Our Customers Love Us!
Out of 15,202 Reviews
Everything looks great! Our teams were so excited to have these stickers for their water bottles, tumblers and cars. They have survived multiple trips through the car wash and dishwasher as promised. Thank you!
This is the second time I've used Car Stickers to create graphics for my truck in order to advertise for my small business. Great product at great pricing! Easy to install and looks great on my truck! Thanks!
Great Service and Professional Quality. Used these guys for years.I highly recommend them,
Looks great and shipped faster than expected! It was easy to custom design too. I'll be buying from here again.
Team at Cartickers.com was great (Faron, etc.! They turnaround graphics work very quickly (often 1 day) and were very flexible when I needed to make changes. The production and shipping were very fast. Once approved, I usually saw my decals at my doorstep within a few days (I am on west coast along with them).Thanks Team!!
Excellent product at any price. Easy to use website and place order. Customer Service is always ready to help