Die Cut Stickers
Custom die cut stickers can help you increase brand awareness and exposure. Upload an image, logo or design to create your die cut stickers. Printed in full color.
* Products in preview may not be actual size
Custom Die Cut Stickers
Our high quality die cut stickers are great for business and personal use. They are highly customizable and look more professional than a standard cut sticker or car decal. To customize your sticker, you can upload an image or logo, add text, and even create a custom size for your sticker or decal. The custom die cut stickers feature a precise cut along the contour of the design creating a more professional looking sticker or decal.
Perfect for Business Promotion & Branding
For business owners, these die cut logo stickers are our most popular type of sticker as they allow you to upload your company logo or design and customize it with a message or contact information. Many of our business customers die cut vinyl stickers to create custom decals for their work trucks. They typically use a logo with their website address or phone number. These stickers and decals can be used on your company vehicles or, as many businesses do, you can give out smaller copies to loyal customers.
Our custom die cut stickers are available at wholesale pricing with some of the lowest rates in the industry. All stickers are made of high quality material and are weatherproof for outdoor use. They are easily applied and removed without leaving adhesive residue.
Die Cut Stickers Other Customers Have Created
Custom Die Cut Stickers
Die Cut stickers feature a precise cut along the edge of the design, which creates a more professional looking sticker or decal. Carstickers.com makes it easy to design your die cut sticker online by allowing you to upload a graphic and add a message, website, or contact information.Die cut stickers are the most popular type for business owners as they often feature a company logo or design.
View Video Library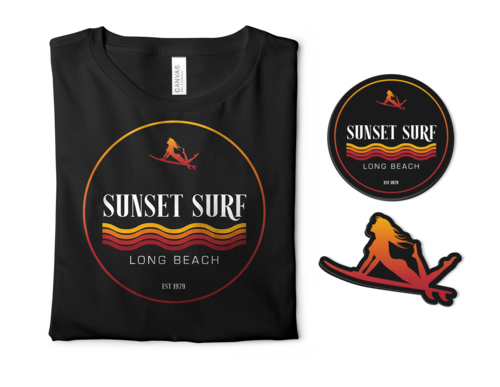 One Design, Multiple Products
Now it's even easier to give your message maximum exposure! Print your business logo on stickers, magnets, and matching tees! If you have a fundraiser or event coming up and you want to offer some giveaways, why not print some custom drink koozies to match your stickers? And if want to make your workplace look more professional, why not get a mouse pad with your business logo printed on it? With the ability to use the same design across multiple product lines, you can order a complete branding package!
View Products
Our Customers Love Us!
Out of 1,115 Reviews for this Product
Aside from trying to upcharge me for asking for no border. I trimmed the border off myself and it looks great.
OBSESSED! This turned out exactly as I had hoped! I drew the image myself, but they were about to print it exactly as I imagined.
Another fantastic job! I can't thank you enough for your professionalism and for the quality of your work! You always make sure the final product is 100% perfect!
What can I say? Carstickers.com simply makes a superior product. Durable, long lasting and stylish. They are my go to for custom decals that stand out from the rest. I appreciate carstickers.com for their quality and customer service. Thank you!- Eric, Napa