Choose a sticker type below to get started
Common Applications & Custom Sticker Types
Our Custom Stickers Have a Variety of Uses
Not All Stickers Are Created Equal
Carstickers.com offers the highest quality sticker at the most affordable price.
1. Protective Laminate Coating
All our stickers include free matte or gloss lamination. This extra layer protects your sticker from scratches and harmful elements like weather and UV rays, increasing the life span of your sticker.
2. High-Resolution Digital Print
We use state-of-the-art digital printers for our stickers that boast a print resolution exceeding 1000 dpi, which ensures your design, logo or uploaded image will be picture perfect every time.
3. Superior Sticker Material
Our stickers are printed on a high-quality, 3 mil thick gloss vinyl with a 5-year durability. This material includes air-egress technology, which eliminates bubbles from forming during application.
Custom Stickers Made to Order
Our custom stickers are great for just about anyone. Whether you are a business owner or simply have your own unique artistic style that you'd like to utilize, this is a great way to create the perfect, custom made decal or sticker. Our custom stickers are simple: you can upload your own image or logo and then customize it to create your own sticker. There are several different styles to choose from depending on what you're trying to accomplish and what you need the sticker for. Some of the coolest looking stickers and decals are our multi-color transfer stickers. These stickers have no background which makes it look less like a decal or sticker and more like a custom paint job.
Great for Business & Brand Awareness
For our business owners, this is where you can create a custom sticker or decal for your business. You can utilize our die cut stickers or vinyl lettering to show your business logo and information on work trucks or on your shop window. The oval and rounded corner stickers are also great for businesses to give out with their company logo and contact info. You can also check out our custom magnet page to create the magnet version. Create a custom sticker today!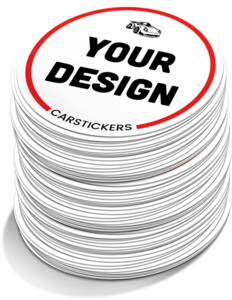 Types of Stickers
Unsure if you should order a Die Cut sticker, a Single-Color Cut-Out Sticker or a multi-Color Cut-Out Sticker? This short video will give you examples and a quick overview on the different sticker types.
View Video Library
Our Customers Love Us!
Out of 9,163 Reviews for this Category
Love the quality and ease of ordering from y'all! Thanks for the great work!
The matte stickers looks amazing!!!
Love it!! Wish I got a bigger size but they withstanded the carwash so I'm very happy with the quality. Quick process and shipping as well.
We update our stickers after each series of races! Great quality, very durable and eye-catching! Getting ready to place a new order!
Sticker turned out great. There was a small issue with the first one. I reached out asking if it needed to be altered as I am going to buy a much larger sticker. They responded immediately and sent out a new one free of charge that was perfect. Great quality, great customer service!