Laptop Stickers
Product ID: t7791
Generate coffee-shop small talk with a quirky laptop sticker design. State your beliefs, show team support, or even use your new sticker as a conversation icebreaker.
* Products in preview may not be actual size
Stickers For Your Laptop
Check out how easy it is at CarStickers.com to get stickers for laptops. Select from over 50,000 designs to create a custom laptop sticker, or browse our sticker catalog for the latest designs. Our products are made from top-shelf vinyl that resists sun damage, scratching, and water. Laptops can be the perfect canvas for expressing yourself. Sticker bomb your laptop cover!!!
View Video Library
About The Laptop Stickers
Custom laptop stickers are one of the coolest ways to show the world exactly what you're all about. Show off your favorite sports team, advertise your website, or express your uncontrollable love for a great cup of coffee. No matter what your passions are, they can (and should) be freely shared with the rest of the world with personalized stickers.
Shorter, catchier phrases tend to make the most impact when designing your laptop stickers. "Do or do not, there is no try," will likely work better than attempting to fit the entire movie's opening text sequence onto one sticker. With that being said, the world is your oyster and you're free to design your sticker in whatever way you want!
Whether you're cracking a joke or supporting a civil rights cause, choosing to make that statement with a sticker is a sure-fire way to spark a lot of dialogue from those around you: Just remember to keep it civil!
So, what are you waiting for? Decorate your laptop with a brand new 'just for you' sticker design today!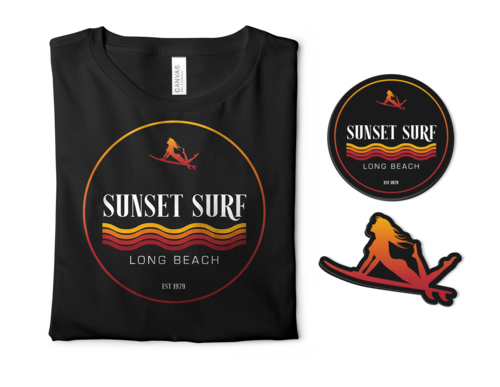 One Design, Multiple Products
Now it's even easier to give your message maximum exposure! Print your business logo on stickers, magnets, and matching tees! If you have a fundraiser or event coming up and you want to offer some giveaways, why not print some custom drink koozies to match your stickers? And if you want to make your workplace look more professional, why not get a mouse pad with your business logo printed on it? With the ability to use the same design across multiple product lines, you can order a complete branding package!
View Products
Our Customers Love Us!
Out of 14,300 Reviews
Similar decal. Very happy with the results. Have a SunFun Florida day!
Perfect size and color. Always done right. Thanks guys
It's perfect! We're always satisfied with your products. They look professional, are durable, and are very easy to create/order. Thank you!
Love our stickers from Carstickers and recommend them to everyone