Cling Stickers
Perfect for windows and other smooth surfaces, our cling stickers are the best way to display your brand or custom design while being able to easy apply and/or move your sticker whenever you'd like. Our low tack adhesive lasts much longer than static cling.
* Products in preview may not be actual size
Why Buy From Us
As the leading manufacturer of custom stickers, CarStickers offers a huge library of over 20,000 different designs. We help customers all throughout the United States and internationally to create unique sticker designs, each of which can be ordered as-is or customized with easy to use online tools. We offer over 40 different specialty material types, include free matte or gloss lamination on all orders, and provide superior customer service.
About The Cling Stickers
Looking for high quality cling stickers that can be used outdoors without easily falling off? As opposed to standard static cling stickers, our cling stickers are made with a low tack adhesive that lasts much longer than static cling and will stay on even outdoors. They're perfect for business or personal use and work great on windows, glass doors or even your vehicle as a car decal.
Our cling sticker options include standard white cling, clear, or white cling for inside use. They are printed with full, vibrant colors on premium vinyl material that is durable for long-term applications. Although our cling stickers can maintain long-term adhesion, they are also very easy to remove, adjust or reapply which makes them convenient for store owners.
To create your own custom cling stickers you can upload your business logo, an image or use our online design tool to design your own stickers. Multiple size options are available or you can choose a custom size and select desired quantity. Cling stickers are a great way to spread awareness of your brand or to display specials or promotions that are temporary. Order your cling stickers online today!
Types of Stickers
Unsure if you should order a Die Cut sticker, a Single-Color Cut-Out Sticker or a multi-Color Cut-Out Sticker? This short video will give you examples and a quick overview on the different sticker types.
View Video Library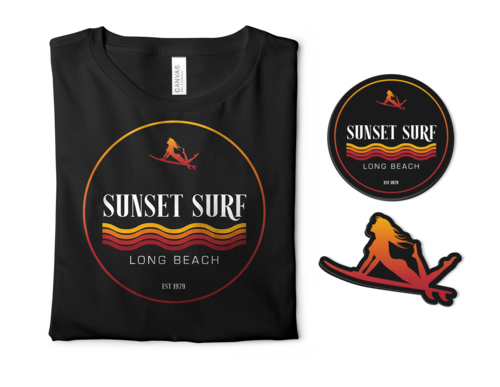 One Design, Multiple Products
Now it's even easier to give your message maximum exposure! Print your business logo on stickers, magnets, and matching tees! If you have a fundraiser or event coming up and you want to offer some giveaways, why not print some custom drink koozies to match your stickers? And if want to make your workplace look more professional, why not get a mouse pad with your business logo printed on it? With the ability to use the same design across multiple product lines, you can order a complete branding package!
View Products
Our Customers Love Us!
Out of 12 Reviews for this Product
Great cling sticker. It sticks extremely well, but is also moveable. Would definitely order again if we need more.
What better way to show your support for a cause than a colorful car window sticker. I ordered these for my cancer support group, and they came out even better than I imagined. After 1 year, my car sticker is a bright and vibrant as when I applied it. This was order #2 for us. They came quickly. I'll definitely do another order when my stock is running low.
We use carstickers.com as our one stop shop for the production of our annual neighborhood association membership stickers. The quality of the stickers are superb, the price is reasonable, and the customer service is outstanding.
I was satisfied with my order and it was delivered in a timely manner as promised! I will definitely order again for my brand.