Glow In The Dark Stickers
Product ID: t1409
Whether they're for a car, phone, water bottle, or promotional materials, glow in the dark stickers are a great way to make a lasting impression. Unlike most green glow in the dark material, our vinyl has a much brighter white appearance in the light, which makes it look like a normal sticker. Once the lights go out, the white areas of the sticker glow bright green.
* Products in preview may not be actual size
Glow In The Dark Stickers
Activate night vision with glow-in-the-dark stickers from carstickers.com. Choose from hundreds of designs or create your own with our easy to use design tool. Our superior glow-in-the-dark material will remain visible in the dark for up to one hour. Catch people's attention when they least expect. Order your glow-in-the-dark stickers today at carstickers.com
View Video Library
Designs Other Customers Have Created
About The Glow In The Dark Stickers
Whether they're for a car, a phone, a water bottle, or even a promotional gift, custom glow in the dark stickers are a fun way to create something unique. Upload your own logo, design or artwork in our design tool and then you will receive stickers printed on durable vinyl material that glows once the lights are out. You can create glow in the dark star stickers, helmet stickers, cell phone stickers, car stickers; the possibilities are endless!
Our printable Glow in the Dark vinyl emits a bright greenish glow in darkness once it has been exposed to natural or artificial light. It will glow the brightest during the first 10 minutes but will remain visible in darkness for up to 1 hour. The brighter white appearance of the Glow in the Dark vinyl makes it perfect for multi-color graphics, signage, interior labels, and other custom printed products.
Promote your business, special offers, events or amenities by creating your own custom glow in the dark stickers and applying them to any clean smooth surface. Use a black light to make them pop during daylight hours. Our affordable pricing allows you to get high quality stickers that look professional and clean without spending a fortune. Upload your own image or use our online design tool to style your own sticker before ordering online.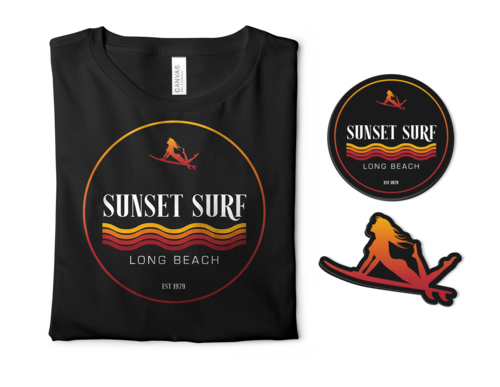 One Design, Multiple Products
Now it's even easier to give your message maximum exposure! Print your business logo on stickers, magnets, and matching tees! If you have a fundraiser or event coming up and you want to offer some giveaways, why not print some custom drink koozies to match your stickers? And if you want to make your workplace look more professional, why not get a mouse pad with your business logo printed on it? With the ability to use the same design across multiple product lines, you can order a complete branding package!
View Products
Our Customers Love Us!
Out of 5 Reviews for this Product
Absolutely one of the best sticker shopping experiences to date. High quality, weatherproof and GLOW IN THE DARK stickers that have my clients asking for more than the one given with invoices. From inception to completion, I highly recommend @carstickers for all your sticker needs.
Great quality and fast shipping even during these times thank you 🙏🏼
Great company. Great customer service
Awesome sticker! The placement was perfect, size was beyond exact, and the glow in the dark background is awesome. I get all day and night advertising with 0 power needed. Looks great on my Tanto Trailer! Check out more at www.tantotrailers.com
They came out great! They are glow in the dark so that people can see the light switch easier at night. I also appreciate that you included a few extra just in case.