Kiss Cut Stickers
Product ID: t7738
Kiss cut stickers are perfect for intricate designs and are essentially die-cut stickers on a square backing. They include free matte or gloss lamination and are weatherproof, scratch-resistant, and last up to 5 years. Upload your existing kiss cut design with a cut path or design your sticker online and we will add a 0.25" square backing.
* Products in preview may not be actual size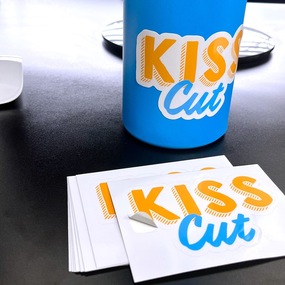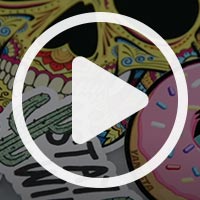 Printed Stickers
Print your logo or design on your choice of material! Order custom printed stickers at carstickers.com!
View Video Library
About The Kiss Cut Stickers
Kiss Cut Stickers are extremely versatile and durable and are available with free gloss or matte lamination. They are printed in full color on white vinyl and come on a square backing that's slightly larger than the sticker design. Kiss cut stickers are lightly cut around the edge of the sticker using special blades that preserve the paper backing, making the stickers easy to peel.
Both kiss cut stickers and die cut stickers are digitally printed on high-quality white vinyl for a durable product you can stick just about anywhere. If you were to print the same design as a die cut sticker and a kiss cut sticker, once peeled from the backing both of the stickers would look the same. The only real difference between these two popular sticker options is how the sticker is finished. A die cut sticker is cut completely through the backing at the edge of the sticker, so all you see is the custom shape and sticker design. Kiss cut stickers are lightly cut around the edge of the sticker, then cut through the backing in the shape of a square around the design, making them easy to peel away from the backing.
Our custom stickers are available at wholesale pricing with some of the lowest rates in the industry. All stickers are made of high-quality material and are weatherproof for outdoor use. They are easily applied and removed without leaving adhesive residue.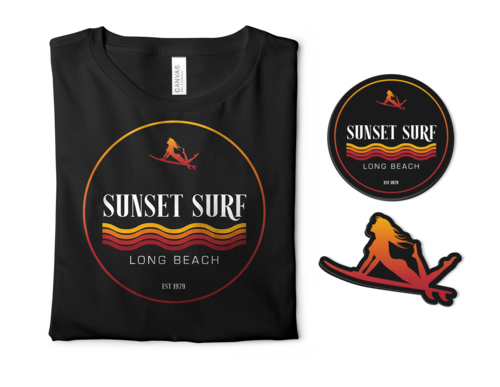 One Design, Multiple Products
Now it's even easier to give your message maximum exposure! Print your business logo on stickers, magnets, and matching tees! If you have a fundraiser or event coming up and you want to offer some giveaways, why not print some custom drink koozies to match your stickers? And if you want to make your workplace look more professional, why not get a mouse pad with your business logo printed on it? With the ability to use the same design across multiple product lines, you can order a complete branding package!
View Products
Our Customers Love Us!
Out of 2 Reviews for this Product
Amazing quality and exactly what I wanted in a car decal! I sell this design on my etsy and this one is my bestseller! Will definitely be restocking.