Starfish Car Stickers and Decals
Do you have a starfish collection? Or just love starfish? Then you'll love our starfish stickers and decals. We have multiple designs to choose from, all of which can be customized or personalized as desired.
Starfish Car Stickers and Decals
Did you know that starfish have no brain and no blood? And, while the word "fish" is in their name, they aren't actually fish at all but rather are related to sand dollars and sea urchins. Most people find starfish to be quite beautiful and some will even collect them as there are over 2,000 species of starfish with a wide range of features and colors.
Like seashells, starfish can be found washed up on the beach and are often kept by those who found them as a souvenir. But whether you have your own collection of starfish or just like how they look, if you are a fan of starfish then you'll love our starfish stickers and decals. They are great for making your vehicle look unique and fun but can also be used indoors on walls, windows or other smooth surfaces.
Our starfish stickers are easily customizable using our online design tool. We also have several different designs to choose from and a wide variety of colors and sizes available. Once you've found your favorite starfish sticker design, you can add your own message or text and then order online.
Types of Stickers
Unsure if you should order a Die Cut sticker, a Single-Color Cut-Out Sticker or a multi-Color Cut-Out Sticker? This short video will give you examples and a quick overview on the different sticker types.
View Video Library
Our Customers Love Us!
Out of 4 Reviews for this Category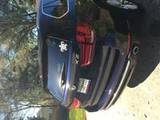 Feb. 2, 2016
I love the bright white color of my decal! Really makes a statement! Very easy to apply !
Aug. 11, 2015
This is my second purchase and I have loved both stickers! They never fade or come off. Great product!!!