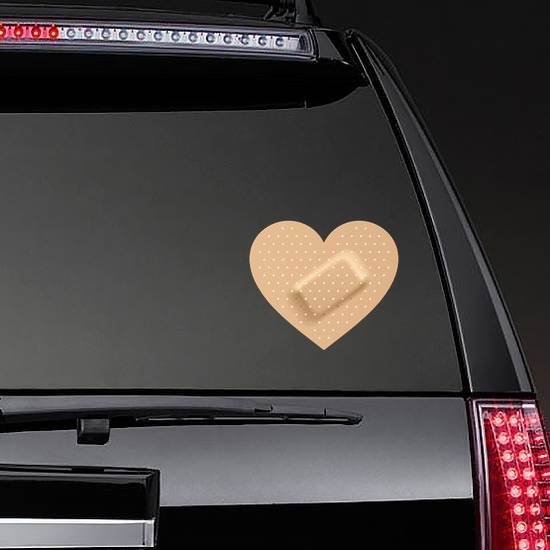 * Products in preview may not be actual size
Product ID: 10993
Our Heart Band Aid Bandage stickers are printed on 5-year, 6 mils thick vinyl that has an advanced air-release system that is ideal for car application.
Buy 4 of these stickers and save 25%! Buy 10 of these stickers and save 50%!
Lasts up to 5 Years
Weatherproof
Free Lamination
Why Buy From Us
As the leading manufacturer of custom stickers, CarStickers offers a huge library of over 20,000 different designs. We help customers all throughout the United States and internationally to create unique sticker designs, each of which can be ordered as-is or customized with easy to use online tools. We offer over 40 different specialty material types, include free matte or gloss lamination on all orders, and provide superior customer service.
About The Heart Band Aid Bandage Sticker
Perfect for any car or window, our Heart Band Aid Bandage Sticker is printed on high quality vinyl with a vibrant print that lasts up to 5 years. The Heart Band Aid Bandage Sticker can be personalized by adjusting colors, size, text and other features. Customize your car or home with our long lasting stickers. Personalize your Heart Band Aid Bandage Sticker and order online today!
Printed Stickers
Print your logo or design on your choice of material! Order custom printed stickers at carstickers.com!
View Video Library
Our Customers Love Us!
Out of 1 Reviews for this Product
I was looking for a way to repair my Garden Owl's head, which I broke when I fell on it and broke my arm. Both of us were pretty pitiful with major fractures. My arm healed, but the poor owl was left with a hole that was letting all his 'gray matter' leak out. The 'Car Stickers' seemed the perfect solution for repairing something that was outdoors in the weather. The Heart was a little large for the shape of the head, but I made it work and I love that Mr. Owl will live another day in the backyard.