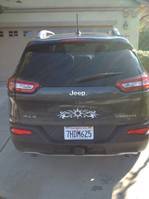 Jamie's review of Gothic Sun Border Sticker
Right after my husband applied my new stickers, my neighbor walked up and I asked her how she liked it, and she replied, "nice! your car has a tramp stamp"! I am still laughing.
Our Customers Love Us!
Out of 56 Reviews for this Category
April 2, 2019
carstickers.com you are awesome! You helped me customize my car perfectly with little money. Thank you so much!!
May 22, 2018
Beautiful designs and easy installation is extremely awesome. As always the quality is impeccable and the reflective shine in amazing.