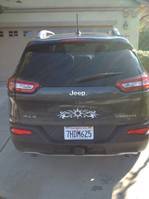 Jamie's review of Gothic Sun Border Sticker
Right after my husband applied my new stickers, my neighbor walked up and I asked her how she liked it, and she replied, "nice! your car has a tramp stamp"! I am still laughing.
Our Customers Love Us!
Out of 71 Reviews for this Category
This company is awesome. The quality and the customer service you will not find at any other place. I would only buy from them!
I'M VERY PLEASED WITH THE QUALITY OF THESE DECALS. THEY DO VERY GOOD WORK!
They do the best work and they are fast on the return. I order from them over and over. Keep up the good work!
THEY ARE THE BEST AND YOU SHOULN'T SHOP ANYWHERE ELSE!