SA's review of Canada Can Flag Oval Sticker
I ordered about 6-8 state decals. We traveled and touched states on my VW Golf. Applied decals on roof carrier. I'm very happy that state decals STICK on lightly textured carrier (Same pic of 2 separated orders of decals)
Our Customers Love Us!
Out of 5 Reviews for this Category
May 7, 2016
I ordered about 6-8 state decals. We traveled and touched states on my VW Golf. Applied decals on roof carrier. I'm very happy that state decals STICK on lightly textured carrier (Same pic of 2 separated orders of decals)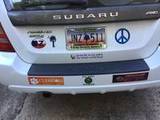 Nov. 14, 2015
Just what I was looking for! Not an easy to find item in my neck of the woods. Will definitely purchase from this seller again.
Dec. 4, 2013
Fast shipping. Vinyl quality seems good.Hard to find some items by browsing website, search function saved the day.Black-against-blue (such as "CZ" oval flag sticker) is too dark, difficult to see.Wishing for a smaller size oval country stickers -- compare to "A" sticker from other retailer also visible in photo.