Joshua's review of Oval Sticker With Your Logo
Great quality and an awesome way to commemorate some memorable races I've done. I've ordered stickers a few times from them now and have always been satisfied. Most recently my order seemed to be taking unnecessarily long to arrive. Turns out it got lost in the mail or something but when I contacted them about it they responded immediately and got my order resent very quickly.
Our Customers Love Us!
Out of 160 Reviews for this Category
Dec. 6, 2019
Great service, very quick, exactly as designed, cannot get the same quality over here in th UK. will use again.
Aug. 26, 2019
We purchased these stickers for a surprise giveaway at the end of our annual Rotary cycling fundraiser, for the century ride. Our event isn't until next month but one of the organizers who had previously completed the 100 mile ride several times over is the first to place his sticker! We love it and can't wait to hand them out.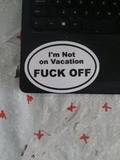 July 9, 2019
Good Quality decal, exactly what I wanted.Very quick delivery.I have had decals printed here before, and they last years in a Coastal environment.Everyone likes the decals I get made.