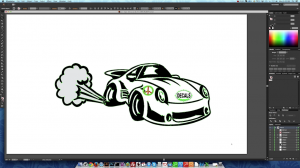 A cut path is a closed vector path in your design file that tells the cutter where to cut around your sticker. Some stickers have simple shapes for cut paths, like circles, squares and ovals. Die Cut Stickers have a cut path that follows the outline of your artwork or logo, and can cut right up to the design edge or leave a small contrasting border around the outside of the design's shape. All stickers must have a cut path included in their design file and can be created in the same image editing software used to design your artwork.
Once the stickers have been printed on high quality vinyl we place the roll on a cutting plotter, which uses the cut path information to cut around your sticker. Everything inside the path will be included after the cut path has been cut; anything outside the path will be omitted when the excess vinyl is removed.
At Carstickers.com, our graphic designers add cut paths to files while prepping our customer's orders. However, if you are ordering Custom Sticker Sheets you can avoid an additional set up cost by adding the cut paths yourself.
How To Add A Cut Path Using Adobe Illustrator
The tutorial below walks you through the process of creating a cut path in Adobe Illustrator.