Perforated Film Stickers
Create incredible window graphics with our Perforated Film Window Stickers! These stickers offer enough print surface area for the custom image to appear solid from the outside, with a subtle opacity. When viewing from inside, the window will appear tinted but will not lose visibility, which make them perfect for vehicles and store fronts! Choose from a 50/50 or 70/30 mesh vinyl for different levels of transparency.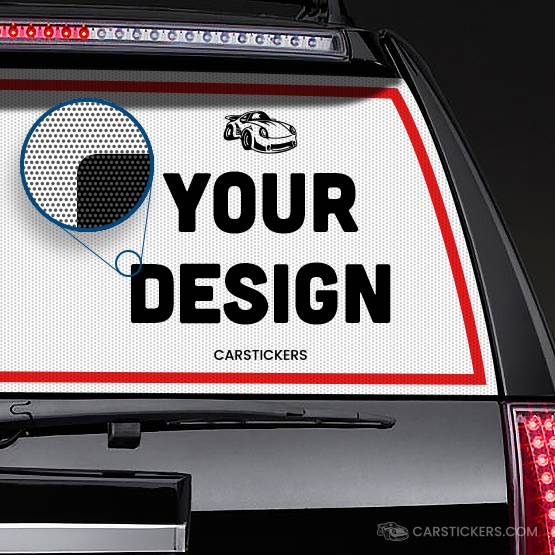 * Products in preview may not be actual size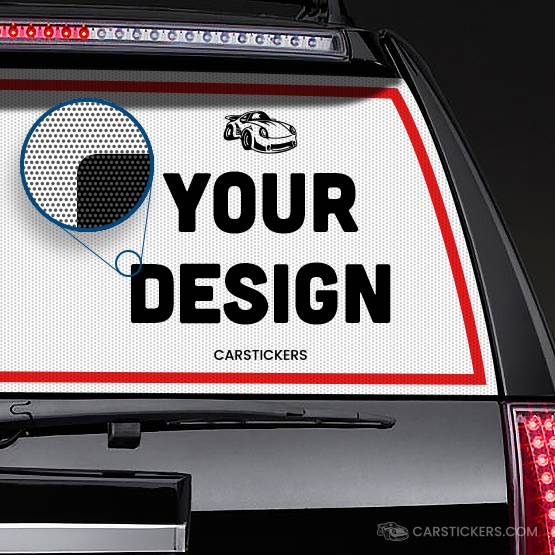 Why Buy From Us
As the leading manufacturer of custom stickers, CarStickers offers a huge library of over 20,000 different designs. We help customers all throughout the United States and internationally to create unique sticker designs, each of which can be ordered as-is or customized with easy to use online tools. We offer over 40 different specialty material types, include free matte or gloss lamination on all orders, and provide superior customer service.
Perforated Film Stickers
Upload your design or create one online to order a high quality perforated film sticker! These stickers create one-way visibility using a perforated vinyl pattern, which offers enough print surface area for your design to appear solid (with a subtle opacity) when viewing it from the outside. When viewing from inside, the window will appear tinted, but will not lose it's visibility.
Perforated Film is weatherproof, so it can withstand elements like UV rays and rain. It is intended for outdoor application on window and will not leave adhesive residue when removed. Perforated Film comes in both 50/50 and 70/30. The first number in this designation represents the amount of printable space while the second number represents the amount of open (see-through) space. Therefore, a sticker made from Perforated Film at 70/30 has a larger printable area, but less see-through area, than a sticker made from Perforated Film at 50/50.
See The Perforated Film Stickers That Our Customers Have Created
Types of Stickers
Unsure if you should order a Die Cut sticker, a Single-Color Cut-Out Sticker or a multi-Color Cut-Out Sticker? This short video will give you examples and a quick overview on the different sticker types.
View Video Library