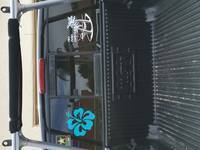 Nick's review of Hibiscus Flowers Corner Sticker
Outstanding quality! Great selection! Best of all... easy, smooth transfer! I could go crazy applying these stickers to anything and everything! Can't get enough!
Our Customers Love Us!
Out of 77 Reviews for this Category
July 9, 2019
Beautiful sticker, glad I ordered a little larger; glitter red looks awesome!!
April 25, 2019
I live all of the decals I've gotten from carstickers.com!This one is on my golf cart.
Dec. 25, 2017
Great find!My daughter wanted this sticker for her car and she loves it.Fast shipping, very easy to apply and looks great.Very happy customer thank you.