* Products in preview may not be actual size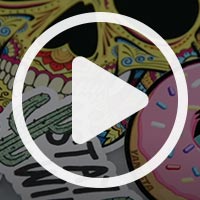 Vector stylish Girl Model Sticker
Our long-lasting printed stickers are easy to apply and made from thick, high-quality vinyl intended for outdoor use. Vector stylish Girl Model Stickers are weatherproof and can adhere to glass, plaster, wood, tile, plastics, metal and any other non-greasy, smooth surface. Order your Vector stylish Girl Model Sticker online today!
Powered by Shutterstock Artist: GN
About The Vector stylish Girl Model Sticker
Perfect for any car or window, our Vector stylish Girl Model Sticker is printed on high-quality, weatherproof vinyl with vibrant colors that last up to 5 years. The Vector stylish Girl Model Sticker comes in multiple sizes, perfect for your phone, laptop, or car window! These stickers will adhere to any smooth surface and won't leave residue behind when removed. Order your Vector stylish Girl Model Sticker today!
Printed Stickers
Print your logo or design on your choice of material! Order custom printed stickers at carstickers.com!
View Video Library
Our Customers Love Us!
Out of 14,194 Reviews
This banner is amazing!! The entire process ran very smoothly from getting the exact size I needed to adding my artwork all the way through delivery. We are so happy with this product and have received numerous compliments on it.
Decals come out perfectly to spec and go on smoothly. It's a pleasure working with Carstickers staff, they're very helpful and understanding. They get your order shipped ASAP and are very reliable.
Very good quality decal.Very fast service.Thank you.
Ive searched for some companies over here in Europe first but i just could not find any that makes the quality you guys do, Happy costumer from Belgium 😎