Custom Political Stickers
Create a custom political sticker with your text or logo or browse other designs and find something you like.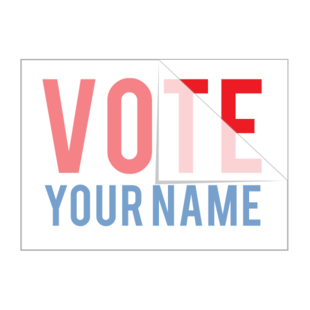 Text Design Tool
Customize your own sticker using our text tool. You can change the text, font, text-color, outline color, and back-ground color!
Full Design Tool
Browse through our huge selection of over 6,000 pieces of artwork to create the perfect custom sticker for you!.
Upload Your Design
Create a unique sticker with your own artwork! Import your logo or custom design with our uploading tool!
Other Political Stickers you'll love
Find your favorite designs and/or political affiliation in these oval sticker or magnet categories below.
Political Stickers
Whether you want to support your favorite political candidate, your current president or even a political party, we have all the political bumper stickers and car decals you'll ever need. Want to support your favorite political candidate or leader who is running for office or reelection? You can utilize our political campaign stickers which can be customize for size and color. This is a great way to show your support for your favorite candidate and also raise awareness for them in the process.
Don't forget to get your political bumper stickers. We have several customizable bumper stickers that are great for anyone who either supports or hates a political candidate. There are supportive bumper sticks and some funny political stickers. Not a fan of either major political party? Check out the "Either Way, We're Screwed" political bumper sticker. Don't like any of the presidential candidates? Then you might like the "Nobody for President" bumper sticker.
Want to make your own political bumper stickers and car decals? Whether you're running for school president – Vote for Pedro! – or just want to create your own version of political stickers, you can also do that here. With several styles and templates to choose from, you can then add in the name and other details and customize colors and size.