Brian's review of Oval Sticker With Your Logo
I ordered the large oval sticker as a promotion for our sailing event across Lake Michigan. - The website design tool worked perfectly. - I placed my order a little later than I should and I contacted "CARSTICKERS" about my order using their website chat. They were very helpful in finding the status of my order. - Shipping via USPS Priority delivered my package from Oregon to Wisconsin in two days! All of the participants LOVE the idea, design, and implementation. We will definitely be using CARSTICKERS next year for our decals!
Our Customers Love Us!
Out of 160 Reviews for this Category
Dec. 6, 2019
Great service, very quick, exactly as designed, cannot get the same quality over here in th UK. will use again.
Aug. 26, 2019
We purchased these stickers for a surprise giveaway at the end of our annual Rotary cycling fundraiser, for the century ride. Our event isn't until next month but one of the organizers who had previously completed the 100 mile ride several times over is the first to place his sticker! We love it and can't wait to hand them out.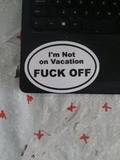 July 9, 2019
Good Quality decal, exactly what I wanted.Very quick delivery.I have had decals printed here before, and they last years in a Coastal environment.Everyone likes the decals I get made.