City Oval Stickers and Decals - U.S. Cities
Searching for custom city code stickers or decals? We have all major U.S. cities available as three digit city codes on oval stickers. You can also create your own city sticker.
Oval City Stickers & Decals
Whether you have a business that ships products around the country or just want a sticker for every city that you've visited, we have the perfect city code stickers for you. Our oval city stickers are perfect for both business and personal use. They feature a three digit identifier for each major city around the United States. You also have the ability to create your own city codes if you choose.
Our oval city stickers and decals are organized by state. You can select a preferred state and then choose which city you want. The stickers come as a standard oval shaped design which is simple but popular with easy application. You can customize your sticker to add a QR code, edit the design or text, and choose a preferred size – custom size options are also available.
Each of our city code stickers are made with the highest quality vinyl material for long lasting durability. They are both waterproof and weatherproof and won't easily fall off but can be removed when needed without damaging the surface or leaving adhesive residue behind.
Types of Stickers
Unsure if you should order a Die Cut sticker, a Single-Color Cut-Out Sticker or a multi-Color Cut-Out Sticker? This short video will give you examples and a quick overview on the different sticker types.
View Video Library
Our Customers Love Us!
Out of 5 Reviews for this Category
May 4, 2019
So stoked I found this site. The customization process was so easy and now I have a way to rep my city/area that feels authentic and personal. Thank you so much for the amazing product and your great service!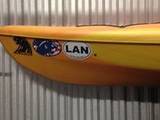 Dec. 25, 2015
The sticker was a surprise gift! I couldn't find a LAN sticker anywhere. But this custom sticker turned out perfect and the size even matched the other sticker next to it. It was delivered in a reasonable amount of time.
July 21, 2014
I love my car stickers! They are high quality and look fantastic! Exactly what I wanted!! And I love that it's a local company!
Feb. 23, 2013
Your stickers are great. I do have a small complaint about the shipping. The envelopes in which the stickers arrive look like "junk mail", and I have nearly thrown them out many times! We've had several of your stickers on our cars, and they last (in all weather and through the car wash) for years. Love them! Thanks!!