Country Oval Stickers and Decals
Looking for stickers featuring world countries? Check out our oval country code stickers and decals. They feature each country's flag design in full color plus the country code.
Oval Country Code Stickers & Decals
Do you enjoy traveling to different countries around the world? Have you moved to a foreign country but want to display your pride of your home country? We have just the thing for any situation like those. Our oval country code stickers and decals are a great way to display your home country, the countries you've visited, or even for business and event purposes.
Our oval country stickers look great just about anywhere you want to put them. You can use them as a bumper sticker or decal on your car. You can also place them on a personal item like the back of your phone, on a laptop or tablet, a helmet, or even a coffee mug. We have stickers for every major country in the world. They are organized in alphabetical order so you can easily find the country that you're looking for.
Our country code stickers are available in multiple material options including glow-in-the-dark, cling, reflective, and more. The stickers and decals are all made with premium vinyl material for long-lasting durability. They are both waterproof and weatherproof and will last for years without falling off or fading.
Types of Stickers
Unsure if you should order a Die Cut sticker, a Single-Color Cut-Out Sticker or a multi-Color Cut-Out Sticker? This short video will give you examples and a quick overview on the different sticker types.
View Video Library
Our Customers Love Us!
Out of 20 Reviews for this Category
Excellent vinyl decal with laminate! Easy application and cleaning.
Amazing product, vibrant colors and great easy application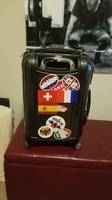 Been travelling quite a bit in the last year. I am a fan of old movies and love seeing the steamer trunks with all the destinations on them. I use Carsticker for the stickers I could not find in the countries visited.
The stickers are amazing!! Great quality would buy again!
We ordered three custom sized stickers and all three were perfect and high quality workmanship. Super fast shipping as well. Will definitely order again. Two thumbs up.
I wanted to document my international motorcycle travels via stickers applied to my panniers (metal saddle bags). Carstickers had the countries that I had visited and plan to visit later this year. What was nice is the ability to size the stickers according to your needs. In this case, I didn't want huge stickers like you would see on a auto bumper or rear window. I plan on visiting many countries and therefore the stickers couldn't be too big. The ordering was easy and the time from ordering to delivery was very reasonable.