Band Aid & Bandage Car Stickers and Decals
Cover up dents or scratches with humor using our band aid car stickers and decals! In a variety of shapes and sizes, our bandage stickers can cover any bruises.
Band Aid & Bandage Car Stickers and Decals
There are many applications for band aid stickers but the most popular use is as a car sticker or decal. Have a scratch or dent in your car and want a humorous way to cover it up? Just add a band aid car sticker that covers the dent or scratch. And hey, it'll cost a lot less than the repair would, although most people tend to use the cover-up as a temporary solution until they can get around to repairing the damage.
Either way, band aid car decals and bandage stickers are fun and silly and can give your vehicle a bit of character. We have dozens of different band aid stickers available and they come in all different shapes, sizes and colors. All of our stickers are also made out of durable vinyl material that is weather resistant and can be applied to your vehicle without damaging the paint. Our band aid stickers and decals can also be easily removed from your vehicle without leaving adhesive residue. Looking for something else? We've got thousands of different stickers, designs and options. You can search our entire inventory from our home page.
Types of Stickers
Unsure if you should order a Die Cut sticker, a Single-Color Cut-Out Sticker or a multi-Color Cut-Out Sticker? This short video will give you examples and a quick overview on the different sticker types.
View Video Library
Our Customers Love Us!
Out of 46 Reviews for this Category
Well, if you ever need a bandaid for your car when you somehow manage to make a hole into it as you backed up into another car on your drive way, then this is the perfect solution.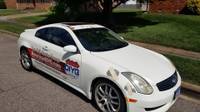 Love it! They get looks and laughs and thumbs up all the time! On top of that? Way cheaper than a paint job! LOL :-D
Hello, it worked perfect for what I wanted to do. I need another one to complete the work, thank you very much.