* Products in preview may not be actual size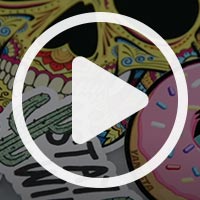 Product ID: 10965
Our Pink Band Aid Bandage stickers are printed on 5-year, 6 mils thick vinyl that has an advanced air-release system that is ideal for car application.
Lasts up to 5 Years
Weatherproof
Free Lamination
About The Pink Band Aid Bandage Sticker
Perfect for any car or window, our Pink Band Aid Bandage Sticker is printed on high quality vinyl with a vibrant print that lasts up to 5 years. The Pink Band Aid Bandage Sticker can be personalized by adjusting colors, size, text and other features. Customize your car or home with our long lasting stickers. Personalize your Pink Band Aid Bandage Sticker and order online today!
Printed Stickers
Print your logo or design on your choice of material! Order custom printed stickers at carstickers.com!
View Video Library
Our Customers Love Us!
Out of 7 Reviews for this Product
Love this sticker! Definitely does the job well
It's Pure AWESOMESAUCE!I get compliments snickers everywhere I goIt holds my bumper together so it's not flapping in the wind when I drive. I could not have mad a better choice. My car Hetty is all together now. She sure THANKS you guys, you are the Best!!!!!
Although it took quite a long time to arrive, and the shipping cost was astronomical, I was very pleased with the product.
I LOVE my band-aid sticker! My car had a small scratch on the back left bumper, but, by using the the cute pink band-aid sticker not only can't you see the scratch anymore but it looks really stylish!