* Products in preview may not be actual size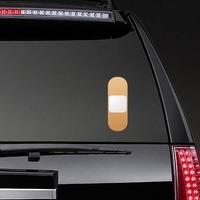 Product ID: 10959
Our Band Aid Strip Stickers are printed on high quality vinyl that is weatherproof, flexible and durable. They are fade resistant and easy to apply to any smooth non-greasy surface. Order yours today!
Buy 4 of these stickers and save 25%! Buy 10 of these stickers and save 50%!
Lasts up to 5 Years
Weatherproof
Free Lamination
Why Buy From Us
As the leading manufacturer of custom stickers, CarStickers offers a huge library of over 20,000 different designs. We help customers all throughout the United States and internationally to create unique sticker designs, each of which can be ordered as-is or customized with easy to use online tools. We offer over 40 different specialty material types, include free matte or gloss lamination on all orders, and provide superior customer service.
About The Band Aid Strip Sticker
Our Band Aid Strip printed stickers are made with high quality vinyl that is weatherproof, flexible and durable. These stickers are fade resistant and easy to apply to any smooth, non-greasy surface. Apply these stickers to your cars, laptops, water bottles and more! Printed stickers also come with a free layer of matte or gloss lamination. This gives your sticker an added layer of protection from UV rays, moisture, and extreme hot or cold weather. It also guards your sticker's design against scratching or fading due to excessive handling.
Printed Stickers
Print your logo or design on your choice of material! Order custom printed stickers at carstickers.com!
View Video Library
Our Customers Love Us!
Out of 13,162 Reviews
We wanted to honor our Father, Son and Brother in a Loving way. These guys went Above and Beyond ! Thank you !!
I have had this sticker on my ice chest for a long time now and it still holds up.
Great quality, fast shipping, good communication. I've purchased 6 stickers over two orders and will use this company again. NO issues highly recommended !!!Crockpot Chris
I had a good experience with Carstickers.com. I had to call a few times over the course of my order to make subtle modifications throughout the process. I always spoke to someone right away, and they proved helpful with each conversation. When my items arrived, I was happy with how they turned out. My suggestion to anyone considering an order is to watch their videos on how to apply the stickers, and follow the directions precisely! I did not use a squeegie, or other tool, to ensure a bubble-free application, as instructed. As a result, I have bubbles on one of my larger, irregularly shaped objects. This is entirely my own fault, and I certainly don't blame carstickers.com. Just a heads up to anyone ordering something like this for the first time. Overall, I am very satisfied with my order, and with their customer service.
I'm impressed with the mirror chrome. It is exactly what I wanted. I am very pleased with the results and how it looks on my helmet.
These stickers came out perfectly! The vinyl is very durable and the print came out crisp and clear. I gave a lot of these to my friends and family and I love seeing them stuck to water bottles and computers. Would definitely recommend!