Computer Stickers
Product ID: t7790
Design awesome and unique stickers for your computer. Computer stickers are a great way to express your interests, advertise a gaming channel, or add a unique design element to an otherwise drab tower.
* Products in preview may not be actual size
Stickers For Your Laptop
Check out how easy it is at CarStickers.com to get stickers for laptops. Select from over 50,000 designs to create a custom laptop sticker, or browse our sticker catalog for the latest designs. Our products are made from top-shelf vinyl that resists sun damage, scratching, and water. Laptops can be the perfect canvas for expressing yourself. Sticker bomb your laptop cover!!!
View Video Library
About The Computer Stickers
Creating a customized sticker for your computer tower is another excellent way to express your individual style. A funny cat meme or your favorite line from The Office is sure to bring out smiles from anyone nearby. But computer stickers aren't just for laughs; they can also be used as a fantastic advertising tool for businesses, streamers, or anyone else who has a computer that doesn't have quite enough "oomph."
Imagine this: You're a Twitch streamer who proudly shows off their expensive custom computer rig behind them for everyone to see. Putting your clan tag or e-sports team's logo on display can help bring together a more cohesive viewing experience that shows off your team's pride or informs newer viewers about your current clout. Build better brand awareness by cross advertising your content platforms on your tower or display your gaming logo ride on the side of your case's plexiglass.
For regular businesses, a computer sticker can display your company's name, individual workstation identifiers, or even act as a replacement for generic office nameplates for those of us who work in cubicles.
There's truly no limit to what the imagination can conjure up. Stand out from the crowd by customizing your very own unique computer sticker today!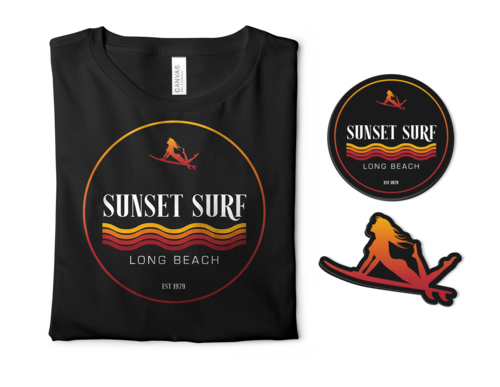 One Design, Multiple Products
Now it's even easier to give your message maximum exposure! Print your business logo on stickers, magnets, and matching tees! If you have a fundraiser or event coming up and you want to offer some giveaways, why not print some custom drink koozies to match your stickers? And if you want to make your workplace look more professional, why not get a mouse pad with your business logo printed on it? With the ability to use the same design across multiple product lines, you can order a complete branding package!
View Products
Our Customers Love Us!
Out of 14,300 Reviews
Similar decal. Very happy with the results. Have a SunFun Florida day!
Perfect size and color. Always done right. Thanks guys
It's perfect! We're always satisfied with your products. They look professional, are durable, and are very easy to create/order. Thank you!
Love our stickers from Carstickers and recommend them to everyone