* Products in preview may not be actual size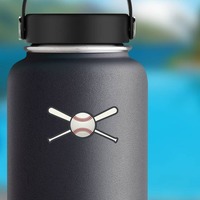 Product ID: 14881
Our Baseball or Softball with Crossed Bats stickers are printed on 5-year, 6 mils thick vinyl that has an advanced air-release system that is ideal for car application.
Buy 4 of these stickers and get up to 25% off! Buy 10 of these stickers and get up to 50% off!
Lasts up to 5 Years
Weatherproof
Free Lamination
Why Buy From Us
As the leading manufacturer of custom stickers, CarStickers offers a huge library of over 20,000 different designs. We help customers all throughout the United States and internationally to create unique sticker designs, each of which can be ordered as-is or customized with easy to use online tools. We offer over 40 different specialty material types, include free matte or gloss lamination on all orders, and provide superior customer service.
Baseball or Softball with Crossed Bats Sticker
Personalize the Baseball or Softball with Crossed Bats Sticker with a full range of customization options including colors, sizes, and added features or art. Once you've made desired modifications, the Baseball or Softball with Crossed Bats Sticker will be printed on premium vinyl material that is flexible and durable. All of our printed stickers are fade-resistant and can be easily applied to any smooth, non-greasy surface. The Baseball or Softball with Crossed Bats Sticker can be quickly removed at any time without leaving behind residue. Customize your stickers and order online today!
Printed Stickers
Print your logo or design on your choice of material! Order custom printed stickers at carstickers.com!
View Video Library
Our Customers Love Us!
Out of 12,598 Reviews
I love my transfer stickers ( decals) they are easy to apply and look great.
There has not been an order yet that I have purchased from Carstickers that I was not super impressed with. Not quite sure how many orders I have placed with them, but I know I have many more to go. Thanks Carstickers for producing such professional products.
I love this sticker! Easy to put on car. Came very promptly after ordering.
I have tried to get a good transfer sticker from another provider and they delivered me sub par, stickers that were not true transfer stickers. They tried to remake them and failed again. With carstickers.com, this came perfect the first time and was exactly what I wanted. I even was given a refund after my rectangle shape took up less than I initially purchased. I didn't expect that, but appreciated it and will be back for more soon! Thanks Carstickers.com team!
I love my car stickers! I ordered a QR code that included my logo and a link to my website. I also ordered a shirt which is a great quality T shirt. I would order another one if I could get the QR code on the back. What an awesome passive way to have someone scan it while waiting in line!!! The mouse pad was just a fun little add on. the products are high quality products. This from a very picky buyer! I will be ordering more things from this company.
Absolutely love my sticker!! Everything i order is always perfect & exactly how i wanted it. Not my first order & not my last!! On my way too order more now!