In Loving Memory Sheriff Sticker
PRODUCT ID: t106
Saving Design...
Please wait while we save your design. Do not close this window or navigate to a different page.
Instructional Videos
Learn how easy it is to design a custom sticker on Carstickers.com! With our online tool, you can upload images, personalize text, add clipart, and even generate a QR Code.
Learn 5 advanced features that will make it easier to design a custom sticker: Updating product details, Using custom text placeholders, Curved text arcs, Variable data, and Images as backgrounds.
About The In Loving Memory Sheriff Sticker
Make your car unique with our car paint safe single color In Loving Memory Sheriff stickers. Or for a more nautical-themed version, try our in loving memory anchor vinyl sticker. With over 40 weather resistant vinyl colors to choose from, you will have a hard time not finding a In Loving Memory Sheriff Sticker that you will like. When you buy from CarStickers.com, you will always get a high quality In Loving Memory Sheriff Sticker for your car that will last 1-5 years in both hot and cold climates.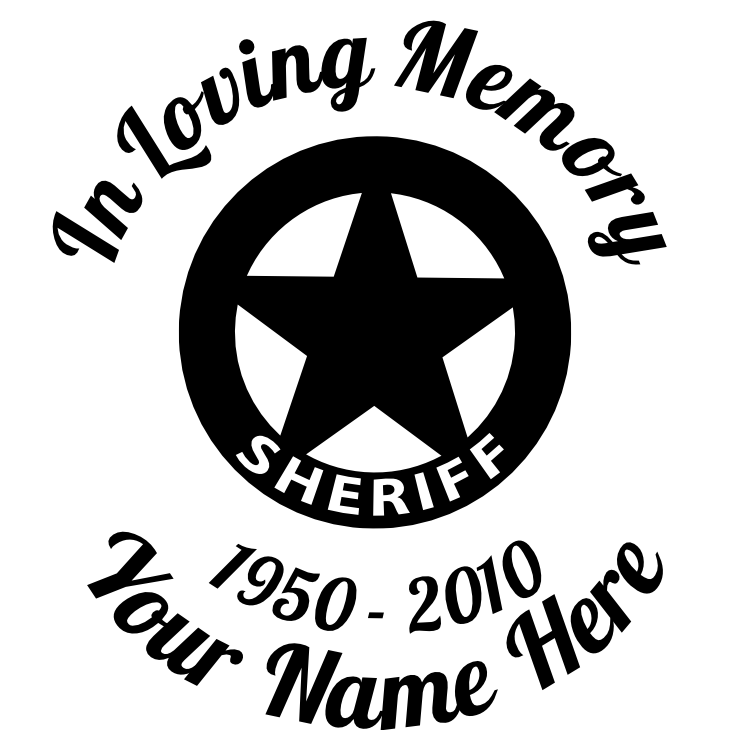 Our Customers Love Us!
Out of 1 Reviews for this Product
Awesome company to work with. I was able to custom design the decal so it read what I wanted it to say. I recommend this company for any of your decal needs.