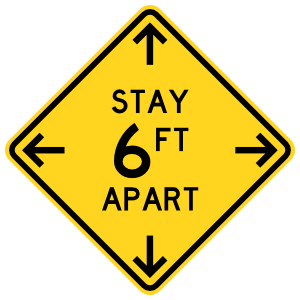 Together as a nation and as a world, we've experienced the hardships of the coronavirus disease, also known as COVID-19, in more ways than one. Over the past several months the virus has caused a worldwide pandemic affecting multiple aspects of life and in doing so, has united us. Through the uncertainty, stress, and loss we have persevered and will continue to do so. Our healthcare providers have become heroes, risking their lives to save ours. None of which has gone unnoticed; our nation's support for those facing this disease head on each and every day has only grown stronger! We've created the Coronavirus Stickers and Decals category because we want to show support and thanks towards these heroes while also spreading word/awareness of proper safety precautions and tips.
Our Coronavirus category offers options for everyone. Do you want a sticker to show appreciation for all healthcare workers fighting to protect and save us? Are you looking for a humorous COVID-19 sticker to stay on the lighter side of things? Maybe you need a sticker to help inform people of the importance of staying six feet apart and wearing their masks? Whatever kind of coronavirus related sticker you're searching for, we have it! Ranging from floor signs and social distancing awareness stickers, to support and thank you to all healthcare heroes and various coronavirus memes. Each offers a decorative and effective way to show your awareness and support while also informing others.
Our stickers are printed on high-quality, weatherproof vinyl with vibrant colors that last up to 5 years. The Coronavirus Stickers and Decals come in multiple sizes, perfect for your phone, laptop, or car window! These stickers will adhere to any smooth surface and won't leave residue behind when removed. This pandemic won't last forever, but it's presence and impact on our lives will. Join the cause and spread the word from the comfort of your own car! Head over to carstickers.com and check out the new category. Stay safe and healthy, we can get through this together!