Make your memories stick today with personalized photo stickers! Photo stickers are one of the top trends this year and we don't think they are going away any time soon. Let us tell you why.
Custom photo stickers are exactly what they sound like: stickers of photos! Stickers of photos usually have the background removed and an added white border. The most popular photo stickers we see come through are photos of faces and photos of pets because pets are awesome and photo stickers of faces are usually funny! Photo stickers make for a unique gift and can also be great fun for yourself. So let's get int it: why are photo stickers such a big hit and what can you do with photo stickers?
WEDDINGS
And more importantly - bachelorette and bachelor parties! One of the number one trends in
2021 for personalized photo stickers is photo stickers of the groom for the bachelorette party members to plaster on their cups, water bottles and more for the duration of the bachelorette party. Some people even order large photo stickers of the groom to adhere to a sign to actually bring around with them while they go out and about to eat, drink and party. Another popular wedding trend is to get photo stickers made of you and your significant other on your wedding day. Some people will throw them in their thank you cards and some will just keep them as a personal keepsake. However you use them - photo stickers of the bride and groom are a big hit and fun way to personalize your parties!
PETS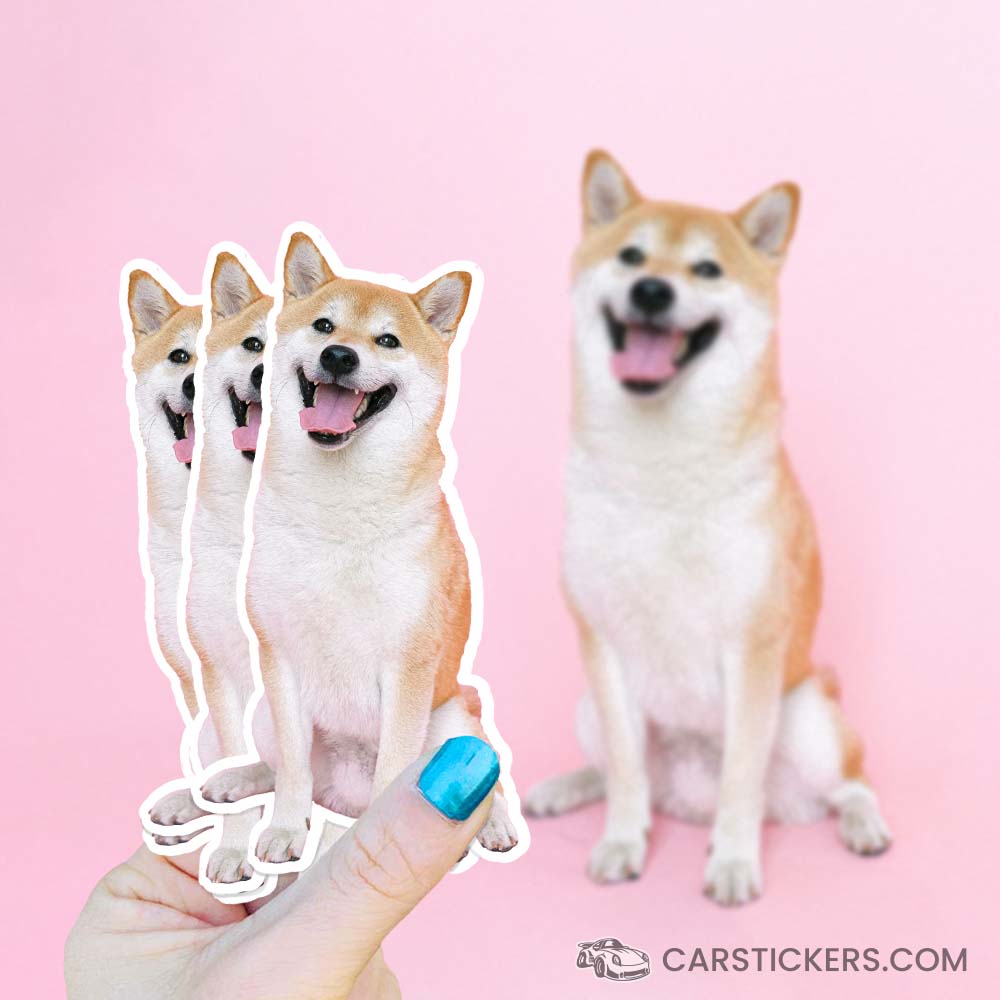 Dogs and cats make for great photo stickers because, let's be honest, they are just so cute and when you have a pet you want to be reminded of themall of the time. You can add Dog Photo Stickers and Cat Photo stickers of your favorite furry friend to the back of your phone case to remind you of your pet every time you look at your phone. You can put them on your car, your laptop, your travel mugs, water bottles and more! People love to talk about their pets and what better way to start a conversation than with a cute photo sticker of your paw-some pets?
COMMEMORATION
Custom photo stickers have also been a popular way to commemorate lovedones! Getting the whole family a photo sticker of grandma and grandpa for the holidays is a fun and unique way to remember your loved ones. It is easy to order them online and easy to send them in the mail too - which makes them perfect for gift giving!

FAMILY PHOTOS
Family sticker photos are a fun new trend that will save you a lot of money. Remember the good old days of going to the department store with your family to get
professional photos done? Your mom would order the whole package of a variety of sizes to hand out to grandma, grandpa, aunts, uncles, etc. People would hang them, keep them in their wallets etc. WELL those days are gone! Malls are even disappearing in some places and department stores with photography studios are too. Nowadays with everyone having a camera phone we've all got tons of photos of our family on our phones. Custom photo stickers of the family are a fun new way to keep an old trend alive! You can hand out photo stickers of your family to your family members for them to add to their personal items or even keep in their wallets like the good old days. Trust us, grandparents and parents will love them!
FUNNY FACES
Lastly, one of the most popular types of custom photo stickers are funny faces of your friends and family members. Sometimes you cappture the perfectlyhilarious candid shot of your parents that you just need to order in sticker format and send to all of your family members so that you can all have a good laught together!
If you are ready to hop onto this trend - head to our personalized photo stickers page, upload your photo, choose "remove background" in the design tool and explore the magic of photo stickers! They will make great gifts for many occassions!