Whether you're an artist wanting to bring your designs to life or in need of designs to sell in a store; we understand what it is like trying to start your own sticker businesses. It can be daunting and a lot of work. If you've been dreaming of starting a sticker business but don't know how or where to start, we're here to help. We have created a guide for you full of tips and tricks on how to start your own sticker business! Don't wait, start your business plan today using these strategies and following this simple outline.
7 SIMPLE STEPS TO STARTING A STICKER BUSINESS:
1. Choose Your Niche & Identify Your Target Market
Who is your target market? Who will you primarily be selling your stickers to? Are you selling boho and hippie sticker designs to college students? Sports stickers to athletes? How specific is your audience? These are all things to consider when you are starting out. It will help guide your branding and identity, your products, your marketing plan and more!
2. Name Your Store & Design A Logo

Think about what kind of designs you are going to sell and try to come up with a logo that feels cohesive. Remember logos should be simple and distinctive. It should quickly and easily communicate to a viewer what your company does. Create a logo that tells people you sell stickers and what you're all about! Once you have your logo complete you can order logo stickers to brand and market your business!
3. Write Your Business Plan
This should include marketing strategies, descriptions of your target audience, financial projections and products you're planning to sell. Create an overview of your business; you can start small! Having a business plan will help you to stay on track and structure your business as you grow!
4. Apply for any Necessary Permits and Finalize Your Business Information.
First, Choose what type of business you are going to operate under and submit your application with your state government. (You'll need to do this in order to open a business bank account.)
There are five different business types you can choose from:
1) Sole Proprietorship: Simple, easy to start, and one of the most common types of business ownership. A sole proprietorship occurs when someone does business activities but doesn't register as another kind of business. There is no separate business entity, meaning there is no distinction between the business owner's personal and professional assets and liabilities.
2) General Partnership: Is the most common type of partnership. It refers to a relationship in which all partners contribute to the day-to-day management of the business. Each partner will have the authority to make business decisions and even legally bind the company in contracts.
3) S Corporations: Once the business is officially an S corp, it is no longer taxed on profits. Instead, all profits, and losses, are passed on to the stockholders.
4) C Corporations: A corporation is a good structure for a business owner looking for a little more risk, good funding options, and the prospect of eventually "going public," which means the company will eventually sell stock to the public.
5) Limited Liability: Similar to sole proprietorships and partnerships, LLCs do not pay additional federal income taxes or those associated with being a corporation. However, depending on their location, they might be subject to other state taxes. LLCs fall under the category of self-employment, so those taxes fall on them as well. An LLC is a good choice for a business owner willing to take a little bit of a bigger risk or one looking to protect their personal assets. limited liability company (LLC) separates the owner's personal and professional assets. Meaning if your business gets h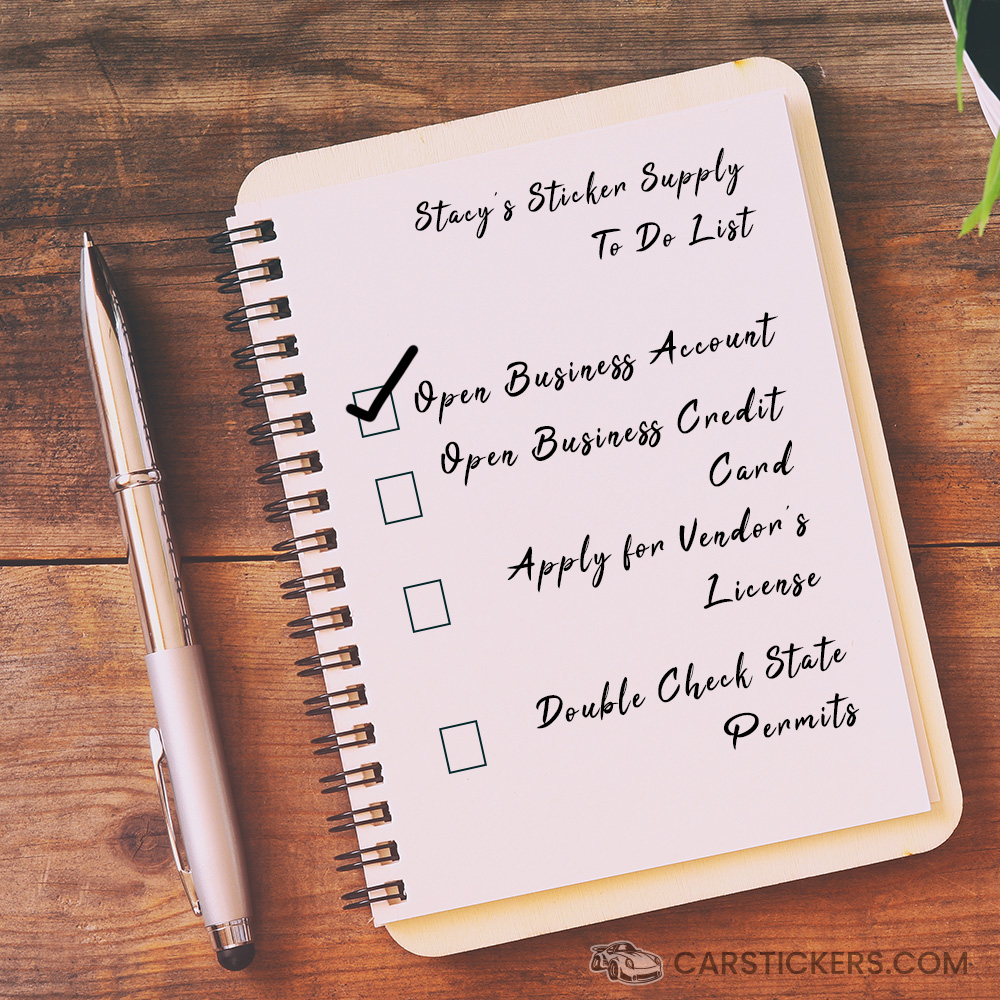 it with a lawsuit or goes bankrupt, your house, car, and personal piggy bank are safe.
-Next, Once you've obtained your business license or permit, you can now set up your business bank account and apply for taxes.
- After you have your business set up and your business account there are a few other permits and licenses we recommend looking into and applying for. If you are selling stickers
in a storefront or onlineyou will want to see if your state requires a Resale Certificate. Every state is a little different and might call this something different like a "vendor's license" so you'll want to check with your state. You can apply for a resale certificate through your state's tax department. Be sure to apply to the state tax department in the state you physically have an address—not the state in which you are incorporated, if it's different.
- Lastly, you may want to obtain Business Insurance. Many small business owners have general liability business insurance to protect their company.
5. Create Your Sticker Designs
Now that you've got your paperwork in order - Create your sticker designs.
- Are you an artist? Do you already have your own sticker designs? Head over to our custom stickers page and choose between a variety of materials depending on what will suit your design best. Order custom holographic stickers if you want your designs to shimmer in the sun, order custom clear stickers if you what you stickers to be see through in parts of the design or order custom die cut stickers in our most poopular standard vinyl. We will add a free layer of lamination so you can feel good knowing that the stickers you sell are waterproof, weather proof and durable! In addition to custom printed stickers we also offer custom transfer stickers and vinyl lettering in over 40 colors. The possibilities are endless!
- Are you looking for cool and trendy sticker designs that fit your shop just right? We have thousands of stickers to
choose from when placing an order. We even built a custom tool so that you can create your own design online with uploaded artwork, images, personalized text, and clipart. We've partnered with Shutterstock to offer thousands of sticker designs and have taken care of the licensing for you so you don't have to worry about purchasing artwork or paying royalties.
Now, Choose Your Packaging:
Easily add retail packaging to your sticker order. Perfect for retail stores! We have packaging options for both printed and transfer stickers which includes poly bags, cardstock backing, and application instructions. The stickers in your order will be placed inside of the retail packaging. This is great for display purposes if you already have a retail location, it can make your stickers look professional, and it will also protect your stickers if you are sending them in the mail.
6. Order Your Stickers & Set Your Prices

Now that you have your stickers picked out you need to set your pricing and order your stickers. Typically when selling to retailers you will sell your stickers at a wholesale price in bulk so that the retailer can then mark them up. You will need to decide how much over the wholesale price you want to charge? Generally, most retailers make at least 40-50% over wholesale prices. If you are selling stickers on your own online shop, at markets or in your own retail location you can set the price without considering what the wholesale price is. Today, it isn't uncommon to see 9 sq. in stickers for sale anywhere from $3-$5. When ordering your stickers you will want to keep all of this in mind because the more you buy the more you save. When you buy in bulk the per piece price will typically drop and you will be able to make more money that way.
7. Selling & Marketing Your Stickers:
Create a website (wix, squarespace, big cartel etc. offer great templates and are reasonably priced. They also all have built in shopping platforms making it easy to set shipping rates)
Utilize Online selling platforms where you can host a storefront - redbubble, etsy etc.
Order your shipping and packaging materials - boxes, mailers, tape, shipping labels, etc.
In addition you may want to consider ordering roll labels or sticker sheets of logo stickers so that you can brand you packaging. In addition you can use logo stickers as freebies in your orders to promote brand recognition efficiently and cos effectively.
Online Marketing - Social media pages are a must in this day and age. They are the easiest and most cost effective way to keep your customers in the loop on your business, promote new products, and easily get your name out there. Social media platforms like Tik Tok and Instagram also allow you to pay for advertising, check your insights and analytics so you can monitor your growth and more!
Sell your products at local retailers like boutiques, souvenir shops or any other place that might be interested in selling you stickers. The best way to do this is to either email the shops or go door to door and introduce yourself. Bring along some samples of your products and pricing when you do.
Sign up for our newsletter and follow us on our social media platforms to keep up with all things sticker business. We are constantly adding new materials, accessories and products and you don't want to miss a chance to have the latest and greatest types of stickers in your shops.
Learn more from the expert: check out our CEO's condensed 5 step guide HERE!