Stickers and signage are one of the best ways to spread your messages to your customers in the Restaurant Industry. They are versatile and come in a variety of shapes, sizes and materials to fill all of your communication needs! Signage is necessary to keep customers and employees happy and moving efficiently. If you aren't sure how exactly custom business stickers can help your restaurant, look no further! We have put together the top ten uses of stickers and signage in the Restaurant Industry to help you out.


1 - QR Code Stickers for Menus
QR Code Stickers are slowly popping up more and more due to the COVID-19 Pandemic. They have been around for a variety of reasons but during the Pandemic a lot of restaurants started to use them to prevent people from having to touch menus and spread germs. With QR codes your customers can use their phones to pull up your menu by scanning the code. This is not only good for preventing the passing of germs but it will save you tons of money as a restaurant owner. You will no longer have to pay to reprint menus every time an item changes! You can just change the menu online! Our QR code stickers are durable and look professional. Instead of printing a QR code on a piece of paper and taping it to the table you can use our stickers which will last long and also be able to be easily removed when you need to change them out!
2 - Table Stickers for Communicating Policy
Table stickers are another type of sticker that had a resurgence in popularity due to the COVID-19 Pandemic. Table stickers are one of the most effective ways to communicate with customers about what tables they can sit at and what tables are off limits. During the Pandemic a lot of restaurants have had to close off tables to keep customers 6 ft. apart due to Public Safety Measures and Guidelines. Table stickers - similar to the QR Code stickers are durable, waterproof, and can also be easily removed at a later time without leaving residue behind! This is really important since they often will want to be removed at a later time when the table is available again.
3 - Floor Stickers for Marking off Social Distancing Spots and Directing the Flow of Traffic



Floor stickers have been around for awhile. They are often used in Gyms and Hotel Lobbies to advertise the company logo. Sometimes they are used in retail environments as well to promote sales. In restaurants they can be used to direct the flow of traffic and mark off social distancing spots. Our most popular floor stickers this past year and a half have been the "One Way Traffic" Arrow Stickers and "Please Stay 6 ft. Apart" Stickers to
help customers follow safety guidelines. These stickers are tremendously helpful and keep customers happy and keep employees able to work efficiently without having to direct customers on where to stand while waiting at the host stand.
4 - Wash Your Hands Stickers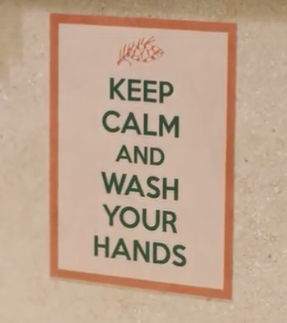 Wash your hands stickers are great for your mirrors in the bathroom! Each state in the U.S. has a law requiring hand washing signs for employees in the restroom. Those laws vary from state to state. Some laws also require them in other stations like the food preparation area. Wherever you need your Hand Washing signs we recommend using stickers! Our stickers adhere to any smooth surface like mirrors, doors, stainless steel, etc. so they are great for pretty much anywhere you might need to place them in your establishment. They look professional and will not be damaged easily like a taped piece of paper. Some restaurants will use a laminated piece of paper or sign but those also run the risk of falling down. With stickers you don't have to worry about that!
5 - Front Facing Adhesive Door/ Window Stickers
Front Facing Adhesive or Indoor Application stickers are great for spreading a message on the inside of your establishment to customers that are outside or passing by! These stickers are adhered from the inside and printed in reverse so because they are meant to be adhered to windows. This will protect your signage from being tampered with and ultimately save you money because you won't have to deal with the wear and tear from the outside!
6 - Banners
There are a lot of messages that need to be broadcasted to a wider audience for restaurants. "Now Hiring!", "Now Open", "Now Closed" etc. Banners are simply the best way to spread these messages. They roll up easily to store when you don't need them and can be easily set up with rope!
7 - Business Hours and Logo Door Stickers


Let customers know what your hours are as soon as the walk up to your building with Vinyl Lettering! This is the best way to communicate clearly when you will be open and closed so that customers do not have to wait for an employee or call in and ask.
8 - Roll Labels for Take-Out / To-Go Orders


To go food and take-out orders have been steadily increasing for a long time now! More and more restaurants utilize the option of to-go food ordering and more and more delivery services have come into existence. As the increase of to-go food popularity occurs there is a need for more packaging! The problem sometimes is that different to-go items might have different heating and reheating instructions! Roll Labels are simply the best way to communicate these messages. Order stickers with your various heating directions and place them on top of the to go boxes when the items are ordered! Or simply use your logo and a "thank you" message. With Roll Labels you can leave one roll at the host stand so that they can label the boxes and/or bags before they get picked up.



9 - On Sale / Specials Signage
Create sale signs with custom business stickers for your windows! Using stickers on your windows keeps customers in the loop on all of your great deals! Stickers are versatile and easy to apply and remove so that you can change them out when your sales and deals change. They are also a great way to maintain your branding! You can take the same ad that you are running online and turn it into a large printed sticker to advertise on your windows!
10 - Logo stickers


Custom Business Logo Stickers! Logo stickers are one of the best ways to brand your restaurant and leave your customers remembering you! You can create die-cut logo stickers to sell at the host stand or in your merchandise shop. You can also give free stickers out to customers to increase brand awareness.


See below how Greg's Grill on the Deschutes River was able to use stickers during the COVID-19 Pandemic during 2020/2021 to clearly communicate social distancing and safety guidelines!